What Melania Trump wore her 45th week as first lady — to the Christmas Tree lighting and more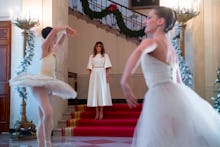 With the holidays inching closer, there were more White House traditions for Melania Trump to participate in this week. While last week included the turkey pardons, this week Trump got to not only show off her home's holiday decorations, but also take part in the lighting of the National Christmas Tree.
This is what she wore.
Sunday, Nov. 26: A chunky grey sweater for a flight back to Washington
On Sunday, the Trump family arrived back in Washington, with Melania briefly appearing in black pants, black boots and an oversized, chunky grey sweater by an unknown designer.
Monday, Nov. 27: A haunting white dress for a White House Christmas tour
When Melania Trump got dressed on Monday in a voluminous, bell-sleeved white Dior dress and gold heels, looking like an angel ready to be propped at the top of a Christmas tree, she probably didn't know that it'd stir a million memes. But it did.
Footage taken on Monday, with Trump showing off the White House's glaringly white Christmas decorations, was immediately turned into a meme, with Trump in the background of shots looking remarkably haunting as ballerinas pranced around her.
We honestly can't hate on that dress, though.
Thursday, Nov. 30: Red Chanel plaid for the White House Christmas tree lighting
For a classic holiday look, Trump wore a red plaid tweed coat from Chanel to the National Christmas Tree lighting near the White House on Thursday.
Pairing the wrap coat with nude Louboutin stilettos, this is just about as festive as Trump gets.
You can see previous recaps of what Melania Trump wore here.