'Breitbart' editor defends Roy Moore by quoting a song Ringo Starr sang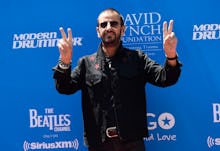 A Breitbart editor appeared on CNN's New Day on Monday morning to defend embattled Republican Senate candidate Roy Moore, comparing the allegations of sexual misconduct against the former judge to Ringo Starr's cover of the song "You're Sixteen," which includes the lyrics "You're 16, you're beautiful and you're mine."
In an interview with host Chris Cuomo, Joel Pollak, a senior editor-at-large for the conservative news site, seemed to argue that the sexual advances Moore allegedly made toward teenage girls when he was in his 30s would have been commonplace, as evidenced by the pop music that was popular at the time.
"You know, in 1973, Ringo Starr hit No. 1 on the Billboard charts with the song 'You're Sixteen You're Beautiful (And You're Mine),' and it was a remake of an earlier song — he was 30 something at the time singing about a 16-year-old — you want to take away Ringo Starr's achievement?" Pollak asks Cuomo.
According to Billboard, Ringo Starr's version of "You're Sixteen," hit No. 1 on the Billboard Hot 100 in 1974.
"You think that Ringo Starr's song is supposed to be a nod toward allowing 30-year-old men to prey upon teenagers?" a nonplussed Cuomo responds. "You're a parent, Joel — you don't believe that."
But Pollak dug in, accusing Cuomo of lumping in "legal behavior with illegal conduct" in a way that was tantamount to "character assassination."
Since the beginning of November, eight women have come forward to accuse Moore of some form of sexual misconduct — seven of whom were teenagers at the time they say the predatory behavior occurred at the hands of Moore, a married man then in his 30s.
In spite of the allegations, Moore has received the continued support of President Donald Trump, who tweeted Sunday that Alabama's Democratic challenger, Doug Jones, "would be a disaster" for the state.
"The last thing we need in Alabama and the U.S. Senate is a Schumer/Pelosi puppet who is WEAK on crime, WEAK on the border, bad for our military," Trump tweeted.