British tabloids have a history of racist dog-whistling about Meghan Markle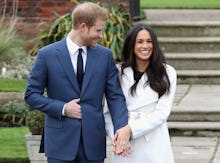 The United Kingdom's royal family hadn't even announced that Prince Harry and American actress and model Meghan Markle were engaged to be wed, but some British outlets were already hard at work decrying her as an "unsuitable" choice for Harry's wife.
To some, those attacks on Markle's character echoed the racist dogwhistles that the 36-year-old Suits star has been dealing with from British tabloids ever since she came into the spotlight as Harry's girlfriend.
Independent of her high-profile relationship, Markle, an activist and actress, is most famous for her turn as Rachel Zane on Suits. But it's been her relationship with Prince Harry that thrust her squarely into the crosshairs of the British tabloid press. Some of those outlets have a history of targeting Markle, who is biracial, with headlines that contain thinly-veiled racism.
On Monday, Tatler tweeted a quote from an "Old Etonian" — an epithet for a certain kind of upper-crust Londonite — to whom the magazine spoke about romance in the United Kingdom. He suggested that "foreigners" like Markle might be "easier" than "[girls] from home with the right background."
Some were more explicit: In November 2016, an opinion piece in the Daily Mail said that "the [royal family] will thicken their watery, thin blue blood and Spencer pale skin and ginger hair with some rich and exotic DNA," and called Markle's mother "a dreadlocked African-American lady from the wrong side of the tracks."
Just a few days earlier, the same outlet ran a story about Markle's mother's home in Los Angeles, with the headline "Harry's girl is (almost) straight outta Compton: Gang-scarred home of her mother revealed — so will he be dropping by for tea?"
The piece was rife with racially-charged digs at the Los Angeles home of Markle's mother, Doria Ragland — claiming that she lives in the "run-down area" of Crenshaw, and that "gangs, including the Bloods, count the neighborhood as their territory."
The article described Crenshaw as "plagued by crime and riddled with street gangs." However, according to the BBC, Markle's mother lives in the Los Angeles neighborhood of View Park-Windsor Hills, a wealthy, historically black neighborhood in the hillsides above Crenshaw, where the median price of a home is nearly $800,000.
"There's been a lot of loaded language and race-baiting language about Meghan," Smriti Mundhra, the entertainment editor at BET.com, told the BBC in September. "Crenshaw was once an epicenter of gang activity but the crime rates have dropped significantly ... it's ridiculous to say Prince Harry would be in danger there."
Less than a week after that string of stories in the Daily Mail, Kensington Palace released a statement from Prince Harry's communications secretary, saying that "the past week has seen a line crossed" and that Markle had "been subjected to a wave of abuse and harassment."
That statement specifically called-out the "racial undertones of comment pieces" and the "outright sexism and racism of social media trolls and web article comments."
The news that Markle will soon be a permanent member of the British royal family comes a little over a year after that vehement admonition of the press. In an interview with the BBC on Monday, the couple focused on their romance and their future together; Markle said she planned to end her acting career and focus on humanitarian work.
"I don't see it as giving anything up. I see it as a change. It's a new chapter," she said, telling Prince Harry, "Now it's time to work as a team with you."