This teen chef cooks in restaurants and will star in a food show — while living with a brain tumor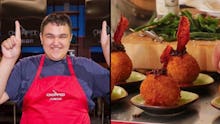 A typical 14-year-old might struggle to boil pasta water properly. But not Jonathan Giovannoni, a boy who lives in Edmonton, Canada. This teen chef takes high school courses online and is a chef at a local bar and cafe — plus he's about to star in a travel cooking show. And he's also living with a brain tumor.
"When I was diagnosed with a brain tumor when I was 5 years old, it limited my ability to play outside with kids my age or do anything a 5-year-old would normally do," Giovannoni said in a phone interview. "Instead of sitting on my couch and watching TV or playing video games, my dad started showing me how to make pizza, pastas and other Italian food."
He completed 72 weeks of chemotherapy after he was diagnosed and pursued treatment in the United States, where he carried around a backpack with an infusion pump. "My tumor is still there but it hasn't shown any signs of growth," Giovannoni said, explaining he currently uses natural home remedies, including cannabis oil.
Giovannoni has cooked for his family every night since he was eight, and applied to be on Chopped Canada Junior in 2012 after seeing a TV ad. He won his episode, donating his entire cash prize of $5,000 to the Make-A-Wish Foundation, which provides opportunities for children with life-threatening medical conditions. Giovannoni went on to compete in the Canadian Food Championships, winning third place in the seafood category. In 2017, he competed in the bacon category and placed first — allowing him and his partner to advance to the World Food Championships in Alabama.
"It's basically the Olympics of cooking; there's no higher or larger competition," Giovannoni said of the World Food Championships. "I was the youngest one to ever be on the team Canada sent."
In the bacon competition in Alabama, Giovannoni cooked pulled pork and bacon croquettes, plus a quiche lorraine empanada with bacon and onion jam, which earned him a spot in the top 10.
Even though the "Olympics of cooking" are over, this teen chef continues to stay busy. He's currently developing menus for Why Not Cafe, a bar and cafe in Edmonton that is set to open in December.
"It was an easy decision to hire Jonathan. My family has known him for years and I have competed against him multiple times," Levi Biddlecombe, the owner of Why Not Cafe, said in an email. "A talent like his is hard to miss, as soon as we knew we were opening a restaurant he was one of the first on [our] list." Biddlecombe added that the 38-seat cafe will serve small plates made to share, and it will specialize in seafood and charcuterie.
And then there's the cooking show, of course. While in Alabama, Giovannoni met Steve Cassarino, also known as Chef Roc, a celebrity chef who is developing a TV show around three teen chefs. According to Giavannoni, the other teen chefs will be Logan Guleff and Dara Yu, and the trio will travel around the U.S. and share food experiences together. The show has not yet started filming.
Giovannoni's heritage shapes his cooking. "My mom is Russian-Jewish and my dad is Spanish-Italian and all four of those cultures play a big role," he said. He loves meat, steaks, lamb, tomatoes, pickled vegetables and infused olive oil. His family still eats together every night — his grandparents, who live a few blocks away, typically come over for lunch. "We all sit together and talk about our day, and what we've done and what we want to do," he said.
Throughout his successes, Giovannoni has been committed to supporting the Make-A-Wish Foundation. He has funded two wishes (wishes average about $10,000 each) through competition winnings and money raised through local bake sales in Edmonton, for which Giovannoni donated homemade baked goods. According to Giovannoni's mother, he has raised and donated over $50,000 to charitable causes through his culinary pursuits.
His best cooking advice? "Have passion in the kitchen. Whatever you do, do it with love," he said. "Don't rush anything because you'll be able to taste it in your food."
And make sure you have sharp knives, he added. "My knives are my most important thing!"
November 29, 2017, 10 a.m.: This story has been updated.