Navajo Nation leaders slam Trump after racist "Pocahontas" comment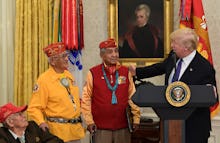 Navajo Nation leaders are not pleased with President Donald Trump's insensitive and bigoted remarks directed at Sen. Elizabeth Warren (D-Mass.), referring to her as "Pocahontas" during an event intended to honor the Navajo Code Talkers, who helped the Allied forces win World War II.
"In this day and age, all tribal nations still battle insensitive references to our people. The prejudice that Native American people face is an unfortunate historical legacy," Navajo Nation President Russell Begaye said of Trump's remarks in a statement. 
On Monday the White House held an event to pay respect to the Navajo Code Talkers, with an Oval Office ceremony that took place, somewhat awkwardly, in front a portrait of a man famous for the genocide of Native Americans.
Just a few minutes into his remarks, the president couldn't help but take a swing at Warren.
"You were here long before any of us were here," Trump said. "Although we have a representative in Congress who they say was here a long time ago — they call her Pocahontas."
Trump has repeatedly referred to Warren as "Pocahontas" in the past, in reference to her claim that she has Cherokee ancestors.
"Today's careless comment from President Trump is the latest example of systemic, deep-seated ignorance of Native Americans and our intrinsic right to exist and practice our ways of life," said Navajo Nation council delegate Amber Kanazbah Crotty in a separate statement.
"The intentional disregard of the historical trauma of Pocahontas as a sexual assault survivor directly resulting from colonization is disturbing," she added.
Crotty also called out White House press secretary Sarah Sanders for her "flat-out denial of this racial slur" and for "dismissing the tangible and egregious impact pejoratives have on Indigenous people." Sanders had dismissed the notion that Trump's remark was a racial slur at a press conference on Monday afternoon.
"The reckless appropriation of this term is deeply offensive and dangerous to the sovereignty and identity of our peoples. Such rhetoric is damaging, and it [is] a serious infringement of our right to live as Native Americans," Crotty continued.
"The Navajo Code Talkers are not pawns to advance a personal grudge, or promote false narratives. Such pandering dishonors the sacrifice of our national heroes."