Could Meghan Markle be the fashion world's next Michelle Obama?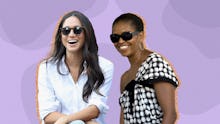 Ever since Michelle Obama left the White House earlier this year, and stepped a bit farther from the public eye, there has been a void. Who is the next impossibly famous woman to constantly look up to in terms of effortless, enviable American style?
Melania Trump could have naturally filled this gap. But with each passing week as first lady, it's clear that she is a far different kind of style icon than Michelle Obama. What made Obama's fashion magnetic was a mixture of a few things: a simple chicness, an attention to trends and sometimes a price point accessible to more than the 1%, making her style seem relatable and attainable.
The ensembles she put together were ensembles you could feasibly wear to work, or hanging out with girlfriends. As first lady, she wore cardigans, skinny jeans and affordable brands, like J.Crew on Inauguration Day.
Trump's style is mostly not that, with her affinity for outrageous coats worn over her shoulders and dresses with labels like Prada and Dolce & Gabbana, which give her an untouchable, intimidating aura.
So who's to fill Obama's shoes? That would be Meghan Markle, a woman who has stepped into the public eye that we feel has the potential to fill the Michelle Obama-sized gap in the American fashion world.
Looking first at the outfit she wore announcing her engagement to Prince Harry on Monday, we see glimmers of Michelle. The dress was a simple green sheath from the unknown Italian brand PAROSH, which began as a brand repurposing secondhand garments, and the white coat was from the also relatively unknown Canadian brand Line the Label. (We believe Markle wore the dress for her BBC interview too.)
Both of these are brands that we admittedly had no idea existed until this very moment. But similar to Obama, the outfit set off a frenzy online, with the New York Times reporting that people rushing to buy the white coat caused Line the Label's website to crash.
This is the kind of thing that Obama would do all the time. She'd wear a relatively unknown designer and skyrocket them into fame. It happened to Jason Wu, who she enlisted to design both of her inaugural gowns, Prabal Gurung and for brands like Cushnie et Ochs.
There's a message in outfits like this. Like Obama, Markle has her sight set on a different kind of style than Trump. She's not looking at labels or brands or a certain level of luxury, per say, but at the designs themselves. She's carving out her own classic, elegant aesthetic that's soon going to be fit for a 21st-century princess.
It's trendy, modern and sometimes super casual (going so far as wearing ripped jeans), like Obama's style often was.
This white coat outfit also tells us that she will be unpredictable in what she wears for a while. That's a contrast to Trump, who has a uniformity among her style choices over her nearly one year in office. She wears coats over her shoulders and pencil skirts and shades like black, white, beige and pink.
But with Markle, there's an unpredictablity and sense of experimentation, which is a result of both her age and not having a bank account akin to Trump's. Her style profile is evolving with the times and trends. She probably won't be wearing much classic Chanel or Dior, like Trump, but will be going for less major designers and brands that are attractive to her.
We saw her doing this even before she became a soon-to-be princess. At New York Fashion Week, she wasn't attending shows akin to Dior or Calvin Klein, but Peter Som and Tracy Reese, who was actually a favorite of Obama's too.
What's hopeful as well is that Markle knows fashion, and American fashion, very well. She once led her own lifestyle blog — the now defunct the Tig — that focused on travel, food, fashion and beauty.
According to Aurora James, the founder of the very hip and charitable brand Brother Vellies that employs people in developing African countries, the Tig was one of the first outlets to cover the brand.
Markle knows good, interesting fashion when she sees it.
In a world where American fashion is almost always missing Michelle, Markle could fit right in.