Poll: Dems think sexual harassment is a bipartisan issue. Republicans think it's just Dems.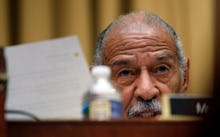 In the midst of a firestorm over sexual misconduct allegations against powerful men in America, one poll shows how voters in both major parties see the issue — and it could spell trouble for Democrats.
According to a new HuffPost/YouGov poll released Monday evening, the majority of Democrats and Dem-leaning independents think that both Democrats and Republicans have a sexual harassment problem.
It's a sharp contrast to the Republicans and Republican-leaning independents polled, who think that only the Democrats have a sexual harassment problem. But when it came to the GOP, the poll showed that a 43% plurality of Republicans and Republican-leaning Independents thought the party's sexual harassment problem was not very serious or not serious at all.
Some will see the poll as a measure of how the American electorate is processing weeks and weeks of reports surfacing accusations of sexual misconduct against powerful men on both sides of the political spectrum. The spate began when the New York Times revealed decades of allegations against Hollywood producer and Democratic party donor Harvey Weinstein.
Immediately following that story's publication, the Republican National Committee — joined by a coterie of outspoken conservatives that included the president's own son — framed the Weinstein allegations as a major problem for Democrats, to whom the mogul had donated millions of dollars over about a 17-year period. It prompted many Democrats in Congress to donate the money they had received from Weinstein to nonprofits advancing women's rights.
Weeks after Democrats distanced themselves from the disgraced producer, women came forward to accuse controversial GOP Senate nominee Roy Moore of sexual misconduct when he was in his 30s and they were teenagers. As Doug Jones, Moore's Democratic opponent, surged in the polls, Republicans in the Senate called on the former Chief Justice for the state of Alabama to step aside, many affirming that they believed the women accusing him.
But the worm would turn once again: As Democratic Sen. Al Franken and Rep. John Conyers found themselves accused of misconduct, some felt that Democratic leaders did not go far enough in their admonition of those men. In a much criticized Meet the Press appearance, House Minority Leader Nancy Pelosi defended Conyers' record on women's issues, lauding him as "an icon."
In response, pundit Nate Silver criticized Democrats for ceding the moral high ground on sexual misconduct.
"Democrats have lost the thread on sexual harassment," he tweeted Sunday. "You can debate Franken as being a marginal case, I guess. But the Conyers claims represent a serious abuse of power — one that required a legal settlement — and Pelosi doesn't see them as a firing offense."
Democrats "losing the thread" may in part explain why the first post-Thanksgiving Alabama poll shows Moore reversing his fortune: The beleaguered candidate now enjoys a small lead against Jones.