Marvel's new white editor-in-chief admits he wrote under a Japanese pseudonym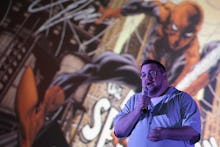 C.B. Cebulski just started his brand-new position as Marvel Comics' editor-in-chief Tuesday — and he's already in hot water.
Cebulski admitted to pop culture site Bleeding Cool that he wrote for Marvel under the Japanese pseudonym "Akira Yoshida" in the mid-2000s.
Under other circumstances, an author writing under a pseudonym in and of itself would not be particularly noteworthy. However, Yoshida's comics, according to Bleeding Cool, were billed as "authentic" depictions of Japan. With the revelation that Yoshida is actually a white man, those titles take on a decidedly different tone.
"He was hired by some to provide an authentic Japanese voice," Rich Johnston wrote for Bleeding Cool. "And as much of a massive fan of Japanese culture as Cebulski was, with family in Japan and living in Japan on and off since he was 20 years old, and who began his professional comics life editing manga — he just wasn't that."
At the time, Cebulski presented himself as Yoshida in interviews and provided a false backstory to Comic Book Resources. Furthermore, Johnston wrote that writing under this pseudonym allowed Cebulski to exploit a rule preventing Marvel employees for being compensated for writing comics beyond their existing salaries.
"Previous to Joe Quesada being made editor-in-chief, editors used to write comics for other editor's departments, often reciprocated, and it was seen as a corrupt practice," Johnston wrote. "If C.B. Cebulski was getting other editors to hire him as a writer, he had an advantage over others. And that also meant that he may be lying to his employer — or that his employer was making an exception."
Johnston reported in July on theories that Cebulski and Yoshida were one and the same, but Johnston said the conversation was ignited once again with the following tweet:
Soon after, Cebulski admitted to using the pseudonym in a statement provided to Bleeding Cool.
"I stopped writing under the pseudonym Akira Yoshida after about a year," Cebulski said. "It wasn't transparent, but it taught me a lot about writing, communication and pressure. I was young and naïve and had a lot to learn back then. But this is all old news that has been dealt with, and now as Marvel's new editor-in-chief, I'm turning a new page and am excited to start sharing all my Marvel experiences with up-and-coming talent around the globe."
Marvel confirmed to Mic that Cebulski used the pseudonym, but declined to comment further.
Many on social media are uncomfortable with the revelation that Cebulski perpetuated a lie about his identity for so long.
If Marvel was hoping its new editor-in-chief would turn a fresh page for its less-than-ideal reputation, its already uphill battle just got harder.