"Time is not our friend here": GOP senator suggests tax bill is in trouble if voters learn about it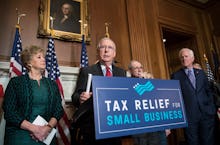 Amid protest on Capitol Hill, a Republican senator Tuesday afternoon said that the GOP needs to pass its tax bill soon to avoid it being killed by mounting opposition.
"Time is not our friend here," Sen. John Kennedy (R-La.) told a gaggle of reporters on his way to a Senate committee meeting to vote on advancing the GOP tax bill.
"It will only get worse," Kennedy added, as he pointed at the protesters who briefly shut down the hearing as they chanted about the tax bill's implications on health care.
Minutes later, Republican senators voted to advance the tax legislation from the Senate Finance Committee to the Senate floor, where it could be voted on as early as this week.
Sens. Ron Johnson (R-Wis.) and Bob Corker (R-Tenn.), who were holdouts until this morning, voted yes on the bill in committee today.
Kennedy was not the only senator to bat away protesters before the hearing. Sen. Lindsey Graham (R-S.C.) asked a Capitol Police officer to remove a protester who was asking questions about health care as Graham gave an interview.
"So you're taking away people's health care," one protester began saying to Graham before he cut her off.
"Go away," Graham snapped at the protester.
"We can't go away, unfortunately, because we actually really care about our health care," the protester said, before Graham asked for the woman to be removed.
The Senate Republican tax plan could cause 13 million more people to become uninsured over the next decade, as well as cause premiums to skyrocket, according to a report by the nonpartisan Congressional Budget Office. This is because the plan kills a key tenet of the Affordable Care Act, also known as Obamacare, that incentivizes young, healthy people to purchase insurance and drive the price down for other Americans.