These are the most Instagrammed restaurants in America in 2017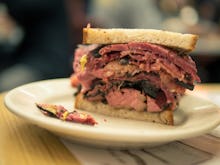 If you didn't Instagram your meal, did it even happen?
On Wednesday, Instagram released data on the most Instagrammed restaurants of 2017. Predictably, many of the restaurants were in coastal cities like New York and Los Angeles, but there was one peculiar plot twist: Food is rarely the star of these photos. People are posting more images of rooftop views, dark clubs and oceanside markets than runny yolks or avocado toast. And it seems like that's by design, since these aren't Michelin-star restaurants — they're music venues, clubs and tourist traps.
Scroll through these top restaurants and you'll see food is practically an afterthought, which seems odd because Instagram has irrevocably transformed the way we interact with our food and the way restaurants are designed. Social media stars regularly flock to well-lit spaces to snag photos of artfully plated fare, transforming their feeds into modern-day culinary passports. But the most Instagrammed restaurants tell a different story: It's better to be seen at these high-profile destinations than to be seen eating.
10 most Instagrammed U.S. restaurants
10. Stubb's Austin in Austin, Texas
This music venue and barbecue joint doesn't get a lot of barbecue love on the 'gram.
9. Hard Rock Cafe New York in New York City
Perhaps the ultimate tourist trap, Hard Rock Cafe serves up live tunes with a side of well-done hamburgers.
8. Mr. Purple in New York City
Located on a hotel roof with sweeping city views, this bar is a picturesque spot to grab a beverage. But you'll find most people pointing their phones at the horizon, not expertly crafted cocktails.
7. San Pedro Fish Market and Restaurant in Los Angeles
This waterfront fish market is famous for fresh shrimp. Photos of food actually grace the San Pedro Fish Market's geolocation on Instagram, and for that we give props to California tourists and locals.
6. Cindy's Rooftop in Chicago
Yet another bar on a hotel rooftop, Cindy's Rooftop offers views of Chicago's Millennium Park. Get the views without the Chicago chill by heading to the geolocation tag on Instagram.
5. TAO Downtown in New York City
TAO might have several locations, but the New York's downtown spot is renowned for over-the-top decor such as a reflecting pool, giant Buddhas and dark wooden walls. If you're thinking this is perhaps the worst spot to take a photo of your sushi, you're right.
4. Katz's Delicatessen in New York City
The good people of Instagram regularly do justice to the achingly beautiful piles of pastrami at Katz's, a New York City deli institution. You'll see more food photos than people photos when perusing this geolocation on Instagram.
3. Catch LA in Los Angeles
Pretty vines? Check. Romantic mood lighting? Check. Photos of food? Nada.
2. Nobu Malibu in Los Angeles
The sushi restaurant has become a global empire, but you won't see many rolls if you try to look them up on Instagram.
1. 230 Fifth in New York City
The views from the rooftop look like a postcard, and it seems like that's enough to keep crowds flocking to this midtown bar. You could always order the $18 burger if you're hungry, though.