Here's how Trump has responded to North Korean missile tests since he took office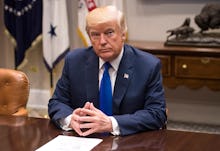 On Tuesday afternoon, the Pentagon confirmed reports that the Democratic People's Republic of Korea appeared to have launched an intercontinental ballistics missile, the nation's first missile test in months. According to an assessment from the Union of Concerned Scientists, a nonpartisan watchdog organization, the missile test was North Korea's most successful yet, flying for a total of 54 minutes before landing somewhere in the Sea of Japan, about 600 miles from its launch site.
At a press conference shortly after news of Pyongyang's missile test, President Donald Trump said that the situation was under control.
"We will take care of it," Trump told reporters at the White House, adding that the U.S. "will handle" the situation.
But Ned Price, a national security adviser to former President Barack Obama, expressed his doubts that the White House had a clear plan to deal with North Korea's increasingly aggressive missile tests.
"Saying 'We'll handle it' is tantamount to saying 'We have no plan," Price told Mic. "Those are pure filler words that mean absolutely nothing — nothing to the North Korean regime, nothing to our international partners, and nothing to the American people."
But the former spokesman for the National Security Council ceded that Trump's response on Tuesday was not as bad as it could have been.
"The president could've provided a worse response," Price said, referencing Trump's now infamous "fire and fury" remarks from August. "But a better response would've been to decline to give more prominence to the latest North Korean provocation, leaving the response to senior officials at the Departments of State and Defense."
In August, as tensions between Washington, D.C., and Pyongyang reached their most heated point yet, Trump issued his most bellicose warning against North Korea, cautioning leader Kim Jong Un against continuing the nation's missile tests lest it invoke the wrath of the United States' military arsenal.
"North Korea best not make any more threats to the United States," the president said. "They will be met with fire and fury like the world has never seen."
In response, North Korea said that it was "carefully examining" an attack on Guam, a United States territory in the Pacific.
But even as his Secretary of State Rex Tillerson assured Americans that there was no cause for alarm, Trump would double down on his threats against Korea.
"I think that's the first time [North Korea] heard it like they heard it," the president said. "And frankly, the people that were questioning that statement, was it too tough — maybe it wasn't tough enough. They've been doing this to our country for a long time. For many years. And it's about time someone stuck up for the people of this country."
By mid-August, North Korea would back down from its plan to attack Guam, vowing instead to "watch a little more [of] the foolish and stupid conduct of the Yankees." But in early September, the nation conducted a successful test of a hydrogen bomb that could be mounted onto an intercontinental ballistics missile, one that was reportedly up to six times as powerful as its previous nuclear test.
In response, Trump tweeted an ominous threat, saying Kim only understands "one thing," suggesting the U.S. would pursue force, not diplomacy, against North Korea.
Weeks later, employing one of his favorite tacks for his political adversaries, he would invent a nickname for Kim: "Rocket Man"
His responses from earlier in the year were comparatively tame. In January, before he took office, Trump assured the American people that Kim would never develop a weapon that could hit the United States. But by April, following a spate of missile tests, the president conceded that a conflict with Pyongyang was possible.
"There is a chance that we could end up having a major, major conflict with North Korea," he said. "We'd love to solve things diplomatically but it's very difficult."
But if that is the president's idea of diplomacy, the State Department has its work cut out for it.