Trump tweets graphic, unverified anti-Muslim videos from far-right British politician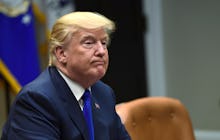 President Donald Trump went on a bizarre Twitter spree early Wednesday morning, retweeting graphic and unverified anti-Muslim videos from a far-right British politician.
The videos were posted by Jayda Fransen, the deputy leader of Britain First — a political group that targets Muslims in the United Kingdom.
Fransen was arrested earlier in November and charged with "threatening, abusive or insulting words or behavior" after she made a speech at a "Northern Ireland Against Terrorism" rally, according to the BBC.
In 2016, Fransen was convicted of religiously aggravated harassment for targeting a Muslim woman in a hijab.
The three videos Trump retweeted are not verified, so it's unclear whether they are real or staged.
Fransen posted one video with the title, "Muslim migrant beats up Dutch boy on crutches!"
Another purports to show a Muslim man destroying a statue of the Virgin Mary.
A third video has the title "Islamist mob pushes teenage boy off roof and beats him to death!"
Fransen appears to be pleased that Trump retweeted her videos.
She tweeted a story from a local U.K. media outlet with the headline "Donald Trump retweets hate messages from Britain First deputy leader."
But others have called Trump out for his tweets.
British Prime Minister Theresa May issued a harshly worded statement saying "It is wrong for the president to have done this," referring to retweeting a member of Britain First.
Former CNN anchor Piers Morgan also took Trump to task.
"Good morning, Mr. President @realDonaldTrump — what the hell are you doing retweeting a bunch of unverified videos by Britain First, a bunch of disgustingly racist far-right extremists?" Morgan tweeted. "Please STOP this madness and undo your retweets."
Even a reporter from the conspiracy website InfoWars called Trump out for the retweets.
"Yeah, someone might want to tell whoever is running Trump's Twitter account this morning that retweeting Britain First is not great optics," Paul Joseph Watson tweeted.
Nov. 29, 2017 11:20 a.m.: This article has been updated.