NBC News fires Matt Lauer over "inappropriate sexual behavior"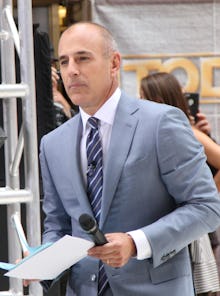 NBC News has fired longtime Today show host and Dateline contributor Matt Lauer for "inappropriate sexual behavior in the workplace," the company said Wednesday.
Andrew Lack, the chairman of both NBC News and MSNBC, told staff in a Wednesday morning memo that Lauer, who had been co-anchor of Today since 1997 but had been with the broadcaster for even longer, would leave the company immediately.
"On Monday night, we received a detailed complaint from a colleague about inappropriate sexual behavior in the workplace by Matt Lauer," Lack wrote in the memo to NBC News staff Wednesday morning. "It represented, after serious review, a clear violation of our company's standards. As a result, we've decided to terminate his employment."
Lack added that the complaint was the first the company had received about Lauer's behavior "in the over 20 years he's been at NBC News," but that NBC News had been "presented with reason to believe this may not have been an isolated incident."
"We are deeply saddened by this turn of events," Lack wrote. "But we will face it together as a news organization — and do it in as transparent a manner as we can."
Hours after Lauer's firing, Variety reported a number of allegations against the ex-Today host, including that he exposed his genitalia to a woman colleague and gave a woman colleague a sex toy with a note about how he wanted to use it on her. The article also alleged that Lauer was "known for making lewd comments verbally or over text messages" and that he often pursued women employees at NBC News while traveling on assignment, often inviting women up to his hotel room.
The Variety article, which was the result of a two-month investigation into Lauer's conduct at the broadcaster, raises new questions about the extent to which NBC News knew about Lauer's conduct. Variety reported that several women said they had complained about Lauer's behavior to executives but that the company did nothing.
"They protected the shit out of Matt Lauer," one person who spoke about former "Today" show executives told Variety.
A spokesperson for NBC News did not respond for requests for comment about details contained in the Variety story.
New York Times media reporter Jim Rutenberg broke the news of Lauer's firing on Twitter at 6:52 a.m. Eastern time.
A few minutes after Rutenberg's tweet, Savannah Guthrie, who co-hosted Today with Lauer, addressed the news on Today, and said that NBC News would cover the story as more information became available.
"For the moment, all we can say is we are heartbroken," Guthrie, teary-eyed, said alongside fellow Today host Hoda Kotb. "I am heartbroken for Matt, he is my dear, dear friend and my partner and he has been loved by many, many people here. And I am heartbroken for the brave colleague who came forward to tell her story and any other women who have their own stories to tell."
Lauer, 59, had been a major figure across NBC News's coverage and was one of the most well-recognized faces of Today.
CNN reported Wednesday that the Times had been looking into Lauer for the past several weeks.