When studies say the GOP tax plan hurts the middle class, Republican senators dismiss the findings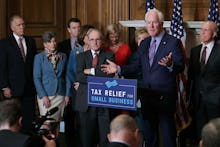 Welcome to Mic's daily read on Donald Trump's America. Want to receive this as a daily email in your inbox? Subscribe here.
Wednesday's dispatch: Studies say the tax plan hurts the middle class. GOP senators dismiss those findings.
Republican senators are clear: You should ignore any studies, reports and economists saying the Republican tax plan will increase the tax burden on the middle class.
"It's just — it's wrong," Sen. John Thune (R-S.D.) told Mic.
"I think that is true," Sen. John Boozman (R-Ark.) said when asked if those studies are incorrect.
"It's not true," Sen. James Lankford (R-Okla.) said.
"Virtually every strata of the socioeconomic strata benefits," Sen. Thom Tillis (R-N.C.) said.
"Economic forecasting makes those late-night psychic hotlines they advertise on TV look great," Sen. John Kennedy (R-La.) said. "About 90% of the economists weighing in on this, it's based on their politics ... I think this bill is going to help the middle class."
Kennedy did not offer any source for his claim that 90% of economists are politically motivated.
These responses from Republican senators came as they passed their tax plan through the Senate Finance Committee, the final hurdle before heading to the full Senate for a vote later this week. Republicans have been pounded with reports saying their plan would increase taxes on those making less than $75,000 by the end of the next decade.
The solution? Dismiss studies that don't fit the Republican narrative.
For example, the Congressional Budget Office said that by 2019, the tax burden would be greater on people making less than $30,000 annually. Those losses for the middle class are driven by the repeal of the Affordable Care Act's mandate that people buy health insurance. The CBO also said poorer Americans — millions of whom would likely choose not to purchase health insurance — would lose their federal subsidies if they do not buy insurance.
Republicans argue that if someone chooses not to buy health insurance, then the CBO cannot say they're losing money by losing a federal subsidy. Repealing the ACA's individual mandate is projected to save more than $300 billion, with 13 million fewer Americans buying insurance. The Republican Party needs this to push through tax cuts on corporations.
"I also hope you'll make the point in your story that people who make under $30,000 a year, with very few exceptions, don't pay any income tax," Sen. Rob Portman (R-Ohio) told Mic.
But it's more than just health care. The Senate plan eliminates tax breaks designed to help the middle class, like the personal income tax exemption. An inflation provision would move middle-class families into higher tax brackets over time. And some people in one group — people who make less than $100,000 and currently itemize their taxes — would see a tax increase in 2018.
And the middle-class tax cuts in the Senate plan are set to expire in 2027. Beyond health care costs, that would increase the tax burden of everyone making less than $75,000 a year.
"It's Washington accounting conventions," Thune said. "We've asked [the] CBO to recalculate."
The bill will likely face its vote in the Senate before we see that recalculation.
More on tax reform:
• Kennedy said Tuesday that "time is not our friend here," suggesting the GOP needs to pass tax reform quickly before more people realize what it contains.
• Reflecting on Ronald Reagan's 1980s tax reform, the GOP would see tax cuts balloon the deficit without bringing promised economic growth.
• "I don't think anybody expected this." Universities are in shock over the new taxes the GOP plan will slap on them.
Senate Republicans want to pass their tax bill this week and are hoping for a Thursday vote.
Today's question: Do you believe the GOP or the CBO?
Please email us at trumpsamerica@mic.com with your thoughts.
Wednesday in Trump's America:
Trump's tweets: President Donald Trump is again flexing the power of his Twitter account. On Tuesday morning, he tweeted, "I don't see a deal!" to prevent a government shutdown. That led Democratic leaders Sen. Chuck Schumer (D-N.Y.) and Rep. Nancy Pelosi (D-Calif.) to pull out of negotiations with Trump and congressional Republicans.
Chances of a government shutdown have risen sharply this week. Trump, along with Sen. Mitch McConnell (R-Ky.) and House Speaker Paul Ryan (R-Wis.) still had a meeting — but with two empty chairs for Schumer and Pelosi.
Immigration has become a major sticking point in shutdown negotiations. On Tuesday, two House Republicans from Miami said they would not support a year-end spending deal without protections for DACA recipients, joining dozens of House Democrats demanding the same.
And on Wednesday morning, Trump shared graphic, unverified anti-Muslim videos from a far-right British Twitter account.
What Trump believes: The New York Times reported Trump is now claiming the Access Hollywood tape released at the height of the 2016 presidential campaign may not be real. The Times also reported Trump is again questioning the authenticity of former President Barack Obama's birth certificate. Furthermore, Trump continues to claim he lost the popular vote because of undocumented immigrants voting illegally.
Access Hollywood has said the tape is real. Obama is definitely an American. No evidence suggests millions of people voted illegally.
North Korea: North Korea on Tuesday fired a missile the country says is capable of hitting the mainland U.S. The nuclear test likely stunts any hope of a short-term diplomatic detente between the U.S. and North Korea. And Sen. Lindsey Graham (R-S.C.) said "we're headed to a war" if North Korea does not stop its missile tests.
John Conyers: Members of the Congressional Black Caucus, which was founded by the Michigan Democrat, are quietly pushing the 26-term congressman to retire after multiple sexual harassment allegations have emerged.
Roy Moore: Trump isn't giving up on the Alabama Senate race and is now considering using his network to boost the embattled GOP Senate candidate before the Dec. 12 special election.
CFPB: The Trump appointee to run the Consumer Financial Protection Bureau — the agency created under Obama to protect consumers from predatory banking practices — is the legitimate appointee, a federal judge said Tuesday. This ends a leadership dispute triggered by the resignation of the Obama-era agency head.
Under the radar:
Guns: The Air Force did not report dozens of violent service members to an FBI gun sale background check database, the Washington Post found.
Time Inc: "Influence works in different ways and it's not always overt." Current and former Time Inc. employees worry about the involvement of the Koch brothers in Meredith Corp.'s purchase of the company.
FCC: Twitter bans of conservatives, not net neutrality, are the real threat to internet freedom, the Trump-appointed Federal Communications Commission chairman said Tuesday.
Puerto Rico: Sen. Bernie Sanders (I-Vt.) has introduced legislation to put his progressive vision for America to the test in the hurricane-devastated U.S. territory.
Today's MicBite:
I shot video of protesters disrupting the Republican hearing on the Senate tax bill on Capitol Hill. Click or tap the video below to watch.