"The Oscars of gay porn" under intense scrutiny for now-removed best ethnic scene category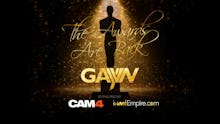 Over the weekend, GayVN, the gay men's subsidiary of major porn company AVN, announced its nominees for its 2018 GayVN awards, known colloquially as the "Oscars of gay porn" because they've been hosted by celebs like Kathy Griffin, Janice Dickinson and Alec Mapa. Over the past few years, awards shows and programs of all types have rightfully had their feet held to fire over their lack of diversity, with many taking active steps to be more inclusive. Not so for the GayVNs.
After a long hiatus, the GayVN awards have returned, attacking the porn diversity problem head on by introducing a new category: best ethnic scene. That's right: In 2017, the GayVNs' solution to diversity issues is to create a separate category for scenes that have people of color in them. This is straight out of Hairspray: "Nice white kids who like to lead the way and once a month we have our Negro Day."
It's particularly troubling because the term "ethnic" others people of color in a way so callous it shocks the conscience — like some clearance bin for anything that isn't white. The solution isn't to create special categories for people of color so that you can continue to operate your biased system, it's to make the system not biased.
To add insult to injury, this year, no men of color are nominated in the best actor or best supporting actor categories. And out of 15 nominees for performer of the year, only two of them are POC.
Zachary Sire, who runs popular porn blog Str8UpGayPorn and has been covering the industry since 2008, sees the problem as something much bigger and more insidious. "The whole porn industry has problems perpetuating racism," Sire said in an interview. "The awards shows are merely reflective of the industry they're supposedly 'celebrating.'" And he's right. These nominations shine a spotlight on the very racist underbelly of the gay porn industry and LGBTQ community at large.
Over the years, gay porn has had consistent themes: anal sex, blowjobs and the adoration of whiteness. If you only watched porn from major studios like Men.com, SeanCody, Lucas Entertainment and Falcon, you'd find that the only thing lower than their desire to hire black gay men, or men of color in general, is Trump's approval rating. Depending on the day, Trump's approval rating might actually be higher. So it was shocking to find that GayVN made an effort at all to address their diversity problems, but then they didn't address it at all; they just effectively gave gay actors of color a separate water fountain.
Studios might claim that they don't hire black actors because people don't watch videos with black performers, but it's a self-fulfilling prophecy when you hire a black performer so irregularly that they look like a deviation from the norm — like an affirmative action sex scene. These claims would be false anyway because according to data released from Pornhub, "black" was the most viewed gay porn category on the site in 2016 and "big black dick" and "black" were the second- and third-most-popular gay porn searches, respectively. So to say that porn viewers are not interested in seeing people of color is simply untrue.
Unsurprisingly, these nominations have caused controversy and a lot of response from within the porn community. Hugh Hunter, a gay porn star with several years in the industry, was the first nominee to decline his nominations in all categories in a letter of opposition to the GayVNs' racist practice. He was followed shortly thereafter by Dolf Dietrich and veteran performer Armond Rizzo.
Cockyboys superstar Boomer Banks, who has been outspoken about the industry's racist practice in the past, was not pleased with this new category either. "Why create a category like this at all? Just nominate [people of color] in the regular categories," Banks said in an interview. He wasn't shy in calling out the fetishizing optics of it, either: "I've been nominated for performer of the year every year in all the other award shows but not here. I got nominated for my cock." Which brings to light the gay porn industry and the community's fetishizing of men of color.
In many porn films that feature black actors, much of their personhood is stripped. They are not portrayed like people, but more like human dildos. Gay porn has a history of profiting by treating men of color in the most stereotypical and dangerous ways, with little to no respect. Many portray black men as thugs and criminals whose only value is measured in inches below their waist, to perpetuate the idea that sex with black men is dangerous but exhilarating. It is disgusting and an insight to the community at large that maligns gay men of color after whitewashing much of the vibrant culture they stole, but that's tea for a different kettle.
Sean Zevran, nominated twice in the best ethnic scene category, also declined his nominations in a video in which he outlined the fact that men of color are underrepresented in the gay porn industry. Zevran said that much of the work of models of color might go unrecognized if not for that category, which is a problem in itself, but is unsurprising as studios have gone out of their way to exclude men of color.
Recently, Men.com's casting of a porn parody of Justice League replaced the character of Cyborg, a black protagonist, with a character played by white Trump supporter Colby Keller. Keller is also nominated for performer of the year and in many other categories. One could argue that his politics and performance should be divorced, but with an administration that actively portrays sex as deviant and seeks to roll back rights for our LGTBQ community, that argument doesn't hold lube. It certainly doesn't excuse the blatant erasure of a black man in favor of a white one under any circumstances.
In response to the backlash from actors in the industry, GayVN — whose parent company, AVN Media Network, Mic has reached out to for comment — removed the category, added all the nominees to the best duo scene category and released a statement on Tuesday. In the statement, they apologize for the way it may have been perceived, but not for the act itself. It then goes on to whitesplain how this category was created in the same mindset that best fetish scene and best bear scene were added — a false equivalence, as men of color can participate in both bear and fetish work. Very few men of color were nominated in those categories.
The industry needs to change, but so does the community that watches it. Pressure should be put on studios and sites to produce inclusive porn that doesn't fetishize or present dangerous stereotypes about people of color. This change rests heavily on the consumers to speak up with not just their mouths but their pockets. Even more important than that is the voice of performers in the industry. Actors should not only be speaking up about award shows, but also working for studios that promote diverse atmospheres. Those who bring money to studios through their work need to be making sure that they don't work for bigots.
Turning a blind eye to discrimination and racism because it's not profitable for you to point it out makes you complicit in that discrimination (discriminatory practices that you would readily stand up against if it was based on your sexuality). If you are only willing to stand up against discrimination when your fight for equality only serves you, you're not fighting for equality, you're fighting for privilege.