From the streets of NYC to the pages of 'Vogue,' meet — and fall in love with — model Leyna Bloom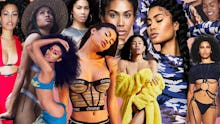 Asked to describe what these past few months have felt like, model Leyna Bloom comes up with one word: "Heavenly."
"It truly is heavenly," Bloom said in an interview with Mic. "It's a dream that is speaking to me constantly. Every moment I just like to pinch myself, and I have to just be thankful in that moment and celebrate every single moment and just wear a smile on my face. And just use that euphoria to spread that energy around and receive it back, and use that and keep going every day."
In the past few months, Bloom has experienced the kind of fashion career other models really do dream about. She walked in some of the top shows at the most recent New York Fashion Week — LaQuan Smith, the Blonds and Chromat among them.
And Bloom made model history when she was featured in Vogue India, becoming just the second out transgender model of color to be featured in an international Vogue at all. Tracey "Africa" Norman, the legendary trans model of color, appeared in Vogue Italia in the 1970s and again in October in her 60s.
All of these extraordinary moments are heightened when Bloom considers where she was just years ago. She experienced homelessness as a child growing up on the South Side of Chicago, but ended up finding ballroom culture when she was 15 or 16 — which helped launch her into not only finding herself, but into modeling as well.
"I remember the first time going to a ball, seeing all these different personalities and all these different characters and all these different forms of expression," Bloom said. "And I thought how beautiful it is that we have a place like this to be safe ... a safe haven for us. And the ballroom scene took me in wholeheartedly, and gave me a place for me to groom myself and gave me a place to have an original platform to do runway and face. I was that child that said I'm going to do something with my life."
Bloom was also helped by the support of her father, who saw what she was capable of.
"My dad, at a very young age, knew that I was larger than life," Bloom said. "He always told me, 'You need to be on television. You need to be taking classes. You need to be doing something. You have all this energy, you all have this possibility.' And he let me just be myself. He saw the colorfulness in me and he was just like, 'Be you, do you, celebrate you.'"
Bloom left Chicago for New York City when she was 17, arriving on a Greyhound bus with no money or possessions. She was homeless, eating one meal a day at 5 p.m. that was comprised of a $1 pizza slice and a soda.
"That's how I survived. On dollar pizzas and a dream. Coming here, I didn't have a plan. There were some times when I was homeless."
"That's how I survived. On dollar pizzas and a dream," Bloom said. "Coming here, I didn't have a plan. There were some times when I was homeless. I was sleeping on trains. I had my suitcase. I would go uptown to downtown, to this train to that train. During the day I would just go out in the city and see the city, learn the grounds that I'm walking on. And understanding that on every corner is a possibility to create a opportunity. I didn't mind that. I see comfort wherever I lay my head."
And now she's walking in New York Fashion Week, stunning designers like Becca McCharen-Tran of Chromat. "She is definitely like one of the stars of our constellation," McCharen-Tran said in an interview with Mic. "I just remember the first time I saw her, [it] was in a casting. You've seen her walk, it's just so much confidence. She could twirl and swirl and whirl that whole room down. I think we were all just like, 'Oh my god, who is this model? She's incredible.' Her energy and her power walking into the casting is just so beyond."
For Bloom, during her moment on the runway for Chromat — a show she opened — she couldn't help but think of things larger than herself, like the other transgender women in fashion who have fought for this same opportunity.
"When I was walking down the runway and at the end when I did that pose, that was for every trans women [who] wanted to be in that moment, [who] worked to be that moment, to be celebrated by all our peers in fashion," Bloom said. "It still gives me chills, and I'm still kind of speechless because I couldn't [believe] that happened. That moment was another for the history books. Moments like that, I'm thinking about the future."
The Vogue spread, of course, has meant so much to her.
"When I got the call that they wanted to see me to do it, I was kind of like, 'What, is this happening?'" Bloom said. "I remember looking at Vogue when I was a little kid, and ripping the pages out and putting them on my wall and saying, 'One day, I'm gonna be somebody's inspiration on the wall.'"
Bloom wants her fans to know that everything she does is for the people who grew or are growing up like she did and are fighting for their chance to shine.
"I'm living a lot of people's dreams right now," Bloom said. "It's every single girl and boy [who] lives in these marginalized communities [who] want something so bad. I want to let them know that I'm doing it for you."