Chrissy Teigen and more call out Victoria's Secret Fashion Show after footage of model falling airs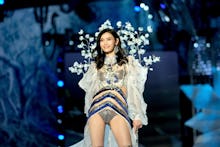 Even before the 2017 Victoria's Secret Fashion Show aired, there were several mini disasters plaguing it. A number of models had trouble getting visas to China, with the show taking place for the first time in Shanghai this year. One of the show's headliners — Katy Perry — was indefinitely banned from the country. And media outlets apparently had trouble with visas too.
Then show itself had a mini disaster of its own. A model — Ming Xi, who's from Shanghai — fell during the show (hardly an uncommon accident on the runway).
News outlets caught wind of the moment before it aired, but turned the story into a positive one by highlighting how the following model, Gizele Oliveira, helped scoop Xi up on the runway. Many assumed CBS would edit that footage out of the American airing of the show.
But when the VS show aired on CBS Tuesday night, viewers saw not only the fall, but Xi visibly upset and crying afterwards. Many weren't super happy about it.
Among the most notable critics of using the footage is Chrissy Teigen, who pointed out the fact that the Victoria's Secret runway show is filmed twice, so it's not like CBS had to show the fall for continuity reasons or, well, any reason at all.
Viewers of the show were also upset by — as we predicted — a portion of the show called "Nomadic Adventure" that had models walking in outfits that looked quite tribal-inspired.
This is far from the first time the VS show has been accused of cultural appropriation.
But in Xi's case, there is one good thing that has come from the footage being shown: a wave of support for her, with fans praising her grace after the fall.
On Instagram before the show aired, Xi addressed the fall, and she thanked her fans and the girls backstage who comforted her.
"It was no doubt one of the hardest moments I have ever had to go through in my career, especially since the show was taking place in my hometown, in front of my mother's and my people's eyes," Xi wrote. "However, the support I received from everyone yesterday was incredible and I am truly grateful to everyone who was there for me."
"Thank you to all the girls who rushed to comfort me at backstage after what had happened, you are all family to me," she wrote. "Lastly, thank you to everyone who sent and left me supportive messages. I will pick myself up from where I fell, and I will keep going in order to repay all the support you all have given me!!"