Trump spreads fake conspiracy theory about 'Morning Joe' co-host Joe Scarborough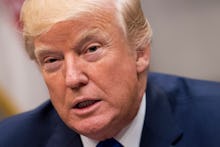 President Donald Trump continued his Twitter spree Tuesday morning, following retweets from unverified anti-Muslim videos from a far-right British politician by tweeting a fake conspiracy theory about the death of a former aide to Morning Joe co-host Joe Scarborough.
"So now that Matt Lauer is gone, when will the fake news practitioners at NBC be terminating the contract of Phil Griffin?" Trump tweeted. "And will they terminate low ratings Joe Scarborough based on the 'unsolved mystery' that took place in Florida years ago? Investigate!"
The incident Trump is referring to in regards to Scarborough is the death of a female aide in Scarborough's congressional office nearly two decades ago.
A medical examiner had said in 2001 there was nothing suspicious about the death, saying the aide died of a blood clot that was the result of an undiagnosed heart condition.
Scarborough responded soon after the tweet.
"Looks like I picked a good day to stop responding to Trump's bizarre tweets," Scarborough tweeted. "He is not well."
Trump's tweet came after he had already retweeted disturbing and unverified videos from a far-right, Islamophobic British extremist purporting to show Muslims committing crimes.
His pushing of a fake conspiracy around Scarborough also comes amid a New York Times report that Trump is still holding on to other fake conspiracy theories, including the infamous "birther" conspiracy that former President Barack Obama was not born in the United States.
The birther conspiracy theory is false, and Trump said during the 2016 presidential campaign that he no longer believes it.
Trump is also reportedly telling aides behind the scenes that the Access Hollywood tape — in which Trump brags about grabbing women "by the pussy" and kissing women without consent — is fake.
Trump has previously publicly admitted the tape is real, and apologized for using "locker room talk."
Access Hollywood also has said the tape is 100% real.
"Let us make this perfectly clear: The tape is very real," Access Hollywood's Natalie Morales said on Monday night's show. "Remember his excuse at the time was 'locker room talk'? He said every one of those words."