Former USA gymnastics doctor Larry Nassar pleads guilty to sexual assault charges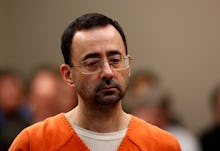 Following accusations from more than 100 women and girls, former USA Gymnastics and Michigan State University doctor Larry Nassar pled guilty to sexual assault in state court Wednesday.
Nassar pled guilty to first-degree sexual contact against three victims in the Eaton County Circuit Court in Michigan, the Lansing State Journal reported. The alleged assaults took place at Twistars, a gymnastics club in Dimondale, Michigan.
The former doctor, who was fired by USA Gymnastics in 2015 and by MSU in 2016, previously pled guilty to seven counts of sexual assault in Ingham County, Michigan, on Nov. 22.
The guilty pleas are part of a plea agreement with the Michigan Attorney General's Office. In exchange for his guilty plea in Eaton County, prosecutors agreed to "drop four other charges, not to add charges for other sexual assault incidents known at this time and not to charge on child pornography evidence that doesn't relate to the existing federal child pornography charges," according to the Journal.
Nassar pled guilty to federal child pornography charges in July and will be sentenced in early December to anywhere from 22 to 27 years for those crimes, the Journal reported. Meanwhile, Nassar will be sentenced for sexual assault in Eaton County on Jan. 31 and faces a minimum of 25 to 40 years in prison on each of those charges, though he could potentially receive a life sentence.
The allegations against Nassar first emerged in a September 2016 report by the Indianapolis Star that said two former gymnasts had accused the doctor of sexual assault. The IndyStar later updated the article to note that since its publication, at least 150 women had come forward with similar allegations against Nassar. Several members of the U.S. women's gymnastics team, including McKayla Maroney and Aly Raisman, have said they were among Nassar's victims.
The charges against Nassar are part of a widespread pattern of abuse against underage gymnasts. Just three months after its initial report on Nassar, the IndyStar reported that at least 368 gymnasts were sexually abused over the course of 20 years as USA Gymnastics turned a blind eye to the abuse.
USA Gymnastics, MSU and Twistars now face federal lawsuits from 140 women for inadequately protecting them against Nassar's misconduct, the Journal reported. At least seven victims reported Nassar's actions to coaches, police or university officials between 1997 and 2015. Nassar was investigated twice by police but never charged; MSU's Title IX office cleared him of wrongdoing in a 2014 investigation.
Nassar's recent guilty pleas mark a stark change for the sexual predator, who previously claimed the molestation and abuse of his victims were actually "medically accepted and appropriate treatments."
"Dr. Nassar, to the extent the allegations are against him, adamantly denies any misconduct at this or any other time," Nassar's lawyer, Matthew Borgula, said when his client was initially accused.
During his Nov. 22 guilty plea, Nassar admitted his practices weren't legitimate medical procedures, the State Journal reported. According to the New York Times, Nassar said he was admitting guilt "to move the community forward and stop the hurting."
"You used your position of trust in the most vile way: to abuse children," Judge Rosemarie Aquilina said during the hearing, as quoted by the Times. "I agree that now is a time of healing, but it may take them a lifetime of healing while you spend your life behind bars thinking of what you did by taking away their childhood."