The genius behind those geometric pies you're seeing everywhere? She has zero culinary experience.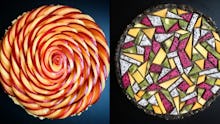 You've seen her pies around the Internet — enchanting, elegant, intricately designed circles, always photographed from above. But the pie queen behind @lokokitchen, the Instagram account that has amassed more than 60,000 followers in three months, has an unconventional culinary background: none whatsoever.
"I'm an executive assistant with no professional culinary or pastry training/experience," Lauren Ko, the amateur baker who runs the Instagram account, said in an email. "What I have to show is simply a product of going for it with a measure of patience and a sharp knife," she said.
Ko lives in Seattle and launched the account in August 2017, posting shots of intricately designed pies, accompanied by punny, food-related captions. (E.g. an ode to Destiney's Child with "too bluetylicious for you babe" in the photo below.)
"I baked my first pie a little over a year ago when I saw some really beautiful images on Pinterest and was curious if I could do it, too," Ko said. She described her aesthetic as "Geometrically-inspired and color-driven," and noted that pies with elaborate crusts can take from four to five hours to make, though some of that is downtime waiting for dough to chill in the fridge. Tarts take her roughly an hour from start to finish.
As for dough, Ko started out using Trader Joe's frozen crust, but now she makes her own. "My favorite recipe is Stella Parks' old-fashioned flaky pie dough recipe from Serious Eats," she said.
"I do try really hard to produce original designs. Fancy pies are totally having a moment and there are real food legends making amazing stuff, but I haven't really seen anyone create the kind of geometric designs that I do until now," she said. Fans of @LokoKitchen know that Ko often cites where her recipes come from in her captions — she's baked recipes from Joy the Baker, Food52, Liv for Cake and Bravetart.
Ko uses fruit, pastry dough and nuts to create her artful designs. The pie below is titled "Starry, starry nut by Vincent Van Dough."
What lucky people get to eat the pies? Ko said her husband has "reached pie over-saturation." (We're over here playing the world's smallest violin for him.) "I foist a lot of pie on friends and coworkers, so they've all been super excited both about pie consumption and seeing my images out in the world!" Ko said.
With thousands of followers, Ko hasn't been able to respond to every comment, even though she'd like to. "I truly value the interactions, but I'm definitely limited by time," she said — proof that becoming Insta-famous doesn't make everything easy as pie.