The 26 best places to travel in 2018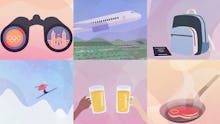 Whether you have a few days of vacation or several months, there are hundreds of destinations to consider in 2018. But which ones are worth your while? Mic set out to highlight 26 of the best places to vacation this year. We scoured the globe and sorted our top getaways into six categories: value and relative affordability, cultural significance, exciting food scenes, destination-worthy craft beers, opportunity for adventure and long weekend excursions.
Among our finds: a northern destination that could be the next Iceland, America's new beer capitals and a European island getaway that's four hours from the East Coast. No matter your vacation style or budget, there's never been a better time to see the world.
Where your money will go the furthest
Great value and easier access make these spots a steal in 2018.
Amsterdam, Netherlands
A new reason to add Amsterdam to your Europtrip in 2018: Come spring, Eurostar will launch a new direct service from London to Amsterdam (and back). The journey takes around four hours on the high-speed train, making getting to Amsterdam worlds easier. There's even a service that drops your luggage off at your hotel, meaning you can make the most of every minute.
After arriving in Amsterdam's Centraal Station, head to the windy, canal-split streets of Jordaan and shop the boutiques lining the narrow lanes of 9 Streets, or visit the salient Anne Frank house (buy tickets online to save hours in line). One of the best ways to see the city is a canal tour, which will be full of fascinating history but also give you a sense of the locals' quirky sense of humor. You won't have trouble finding a good place to try Dutch fare, from fluffy poffertjes (bite-sized pancakes) to high-quality Gouda — plus an overwhelming number of irresistible cheese shops to sample from.
But if you're willing to venture a bit outside the city center, reserve a dinner at Restaurant Blauw for rijstafel, or rice table — an elaborate spread of Indonesian dishes that will not disappoint. — Kate Bratskeir
Azores, Portugal
The Azores, an archipelago in the middle of the Atlantic, aren't the easiest place to reach from North America — strange, considering they're less than four hours from Boston by plane. Thanks to the relative lack of flights, the Portuguese islands haven't been overrun by a stampede of American weekenders and stopover warriors. (Our sincerest apologies to Iceland.) That's about to change, as Azores Airlines' Ponta Delgada has started flights from Providence, Rhode Island, and Delta Air Lines will kick off a direct service out of New York's John F. Kennedy International Airport in May.
At first glance, there are parallels between the mid-Atlantic isles and Hawaii. The nine Azorean islands teem with volcanic activity, bubbling with mud pots and punctuated with craters. The twin lakes of Lagoa das Sete Cidades, remnants of a dormant volcano on São Miguel Island, are a photographer's dream come true, with vivid greenery framing the deep malachite water. And much like the Pacific cousin, there are sailing, diving and paragliding outfitters.
But that's where the similarities end. Aside from a decidedly cooler mid-Atlantic climate (the year-round temperatures range between 57 Fahrenheit and 71 Fahrenheit), the Azores offer distinct viniculture with varietals like Verdelho and Terrantez. In fact, the wine cultivation here is so unique that UNESCO bestowed the World Heritage status to Pico Isand, where rock walls crisscross the landscape in order to protect the grapevines from the harsh elements. The new flights, coupled with the dollar's strong showing against the euro, are all the more reason to raise your glass to this off-the-radar destination in the middle of it all. — Chaney Kwak
Dundee, Scotland
Only 1.5 hours away from the stately castles of Edinburgh and the gritty-cool city of Glasgow, Dundee is a good bargain because of the dollar's strong performance against the pound. This year, the Scottish city will take center stage when London's prestigious Victoria & Albert Museum opens an offshoot in Dundee in 2018. This stunning Kengo Kuma-designed structure is a destination in itself, with 2,500 stone panels undulating dramatically to form a facade that emulates the prow of a ship projecting over the water. Inside, the museum will honor design in its myriad forms, from a 1480 book of illuminated manuscripts to a video game designed by Scottish game studio Secret Experiment. This institution marks many firsts: Victoria & Albert's first spin-off and Scotland's first museum dedicated to design.
The new addition joins McManus Galleries, a 150-year-old Gothic Revival complex containing a gallery and art museum, where you might find cheeky programs like an exhibition focusing on one of Dundee's inventions, marmalades. Together they lend credibility to the city's arts scene, which remains youthful thanks to injections of talent from the prestigious Duncan of Jordanstone College of Art and Design. It's not often you get to see a city in the midst of its transformation, but visit now for a preview of how the new museum crowns Dundee's ambitious 1 billion pound, 30-year master plan to upgrade its industrial waterfront. — Chaney Kwak
Ljubljana, Slovenia
The Eastern European nation of Slovenia has the dolce vita lifestyle of its neighbor Italy down pat — but without the waves of mass tourism, and at a quarter of its prices. Case in point: The pizza here, which is popular among locals, are giant pies with the perfect ratio of bread, tomato cheeses and parma ham and cost just 5 euro.
The relatively budget destination just got a bit fancier, as well. Stay at the brand-new InterContinental Ljubljana, with a minimalist design that contrasts with the medieval architecture and socialist block towers in the rest of the city. The rooms start at $150, but spend your time on the top floors for the killer breakfast and great views. During Roman times, Ljubljana was known as the much-easier-to-say Emona, and was a necessary stop for the empire's legions as they crisscrossed the empire. Today, the city remains the perfect jumping-off point to explore the country's towering Alps, glacial lakes — like the famous church-topped Bled — and colorful coast down in seaside Piran, which looks like a miniature Venice but without the crowds. — Brandon Presser
Martinique, Caribbean
The hot news in Martinique is the destination's newfound ease of access. Norwegian Air operates nonstop flights — as low as $79 one way — to its capital, Fort-de-France. Visitors to Martinique will not only encounter an island with a French feel — it is, after all, an overseas French territory — but also a distinctly West Indian vibe (Creole is spoken widely across the island). Traditions as disparate as Colombo-seasoned cuisine, storytelling festivals, Carnival celebrations and annual boat races live side by side on this fascinating island.
While it lacks the grand boulevards and architectural splendor of Paris, the historic capital of Fort-de-France features several impressive structures, from Fort St. Louis to the Schoelcher Library, which honors French abolitionist writer Victor Schoelcher.
For an off-the-beaten-path excursion, head to La Savane des Esclaves in the resort town of Trois Ilets. The open-air museum honors Martinique's African and Caribbean legacies with a post-slavery native village and working farm featuring traditional construction techniques and agricultural processes. Unlike some Caribbean plantation attractions that gloss over ugly histories, La Savane's exhibits include frank displays and artifacts depicting incredible cruelty and violence of colonial slavery — a part of the island's history that any beach-going visitor should take in. — Brian Major
Victoria Falls, Zimbabwe
Victoria Falls is one of nature's greatest marvels, with its curtain of rushing water plunging from 355-foot-high cliffs. Scottish explorer David Livingstone, the first European to see the falls, reached them while traveling down the Zambezi River in 1855. Today, it's easiest to get there by plane, especially following a $150 million airport renovation completed in 2016 — both Ethiopian Airlines and Kenya Airways have launched new flights there within the past year.
Victoria Falls National Park is the region's main attraction, but a 12- to 13-minute helicopter ride with the Zambezi Helicopter Company is perhaps the best way to fully comprehend the region's stunning geography. Those looking for an adrenaline rush can bungee jump from the 112-year-old Victoria Falls Bridge linking Zimbabwe with Zambia, while animal lovers can visit Victoria Falls Wildlife Trust and interact with their herd of orphaned elephants through local companies like Wild Horizons and Shearwater. The easiest way to see the falls is still with a comprehensive tour, which will include lodging and transportation. The writer was a guest on tour by Collette, while other companies like National Geographic Expeditions, Globus Journeys, Geckos Adventures and Extraordinary Journeys have all launched new tours that stop in Victoria Falls. — Meredith Bethune
Where cutting-edge culture meets historic traditions
These places have gotten screen time as sporting arenas and Hollywood backdrops, but you'll have to visit for the full effect.
Sante Fe, New Mexico
Santa Fe is experiencing a rapid-fire culture shift from a semi-sleepy art town to a progressive creative hotspot without rival. With the explosive popularity of Meow Wolf, the George R.R. Martin-funded immersive art experience, the opening of contemporary art space Site and the creative works in the galleries on Canyon Road, there's been a complete reimagining of art in the New Mexican city.
One of the most radical changes visitors will notice in 2018 is the reclamation of authenticity among Native American art and goods. Local artists are fighting against the fakes industry that takes work away from Native communities. Native art is also celebrated at La Posada, a luxury adobo hotel that's supposedly haunted. And don't leave without trying the city's famed green chile — particularly in the form of green chile clam chowder at La Choza. — Ali Wunderman
Sardinia, Italy
Sardinia is officially part of Italy, but you'll find that the varied, moon-like geology, the food and even the dialect — a mix of non-classical Latin, Corsican, Byzantine Greek, Catalan and Spanish — are nothing like the mainland. The island is known for its pristine, white sand beaches and 16th-century architecture, as well as the Nuraghe, prehistoric and megalithic rock structures that have been designated UNESCO World Heritage Sites.
To avoid the crowds, try some of the less-traversed sites, like Palmavera Nuraghe, a collection of towers and a courtyard in Alghero, or Li Mizzani, the Giants' grave in the dusty hills of Gallura. There's also the deeply rooted food culture, which includes a pasta style called su filindeu that's on the verge of going extinct. The island's other sacred pasta, known as malloreddus alla Campidanese, is a small, gnocchi-shaped pasta with a hearty, meaty sauce that's similar to bolognese and served only in certain parts of Sardinia. A bowl of this with fresh Parmesan cheese and crisp Vermentino — the island's popular grape variety — is worth the trip alone. — Claire Volkman
Seoul, South Korea
As the host for the Winter Olympics in February, South Korea has been garnering much interest. But even without the games, the nation is a vibrant place of living history, an anthropological legend of almost unreal, rapid economic transformation.
The capital city of Seoul has no shortage of novelties for the adventurous traveler. By day, it's a high-tech, futuristic metropolis against a backdrop of green mountains and ancient palaces. In Gwanghwamun Square, tourists can see the old and new Korea: Gyeongbokgung Palace wedged in between skyscrapers and a golden statue of the great King Sejong. In nearby Jongno, hundreds wine and dine in historical hanok houses now serving up draft beers and Americanos as part of the city's diverse, aesthetic-driven cafe culture. Check out the Ellie cafe for the atmosphere, Cafe Bora for the sweet potato bingsu (shaved ice) or Kiwa Taproom for the beer — or roam the city for street food like kimbap (rice rolls), tteokbokki (spicy rice cakes), hotteok (a fried pancake-shaped donut with fillings), hot waffles and blood sausages.
Spending evenings at one of the city's late-night makgeolli (rice wine) bars like Makgeolli Salon or MowMow. In the Hongdae district, you'll find drunken fun at a virtual reality arcade, a multi-bang (video game room), a raccoon cafe and a private karaoke room — with disco lights and extra tambourines for good measure. — Kelly Kasulis
Singapore
Singapore has been in the international spotlight for a few reasons — the incredible hawker centers, the futuristic architecture — but summer 2018 will bring a different kind of attention. That's when the movie adaptation of Kevin Kwan's best-selling book, Crazy Rich Asians, comes out, and the island nation plays a starring role. Confirmed filming locations included popular attractions like Merlion Park and Gardens in the Bay, but the rest of the city is equally Hollywood-ready, from the expansive shopping malls and busy food courts to the Peranakan architecture.
The coolest new places to stay are design-forward as well, such as the modern Warehouse Hotel in a historic building and the newly opened Andaz Singapore, with a rooftop bar that overlooks the skyline. The city's grandest dame, the Raffles Hotel, is finalizing a yearlong complete renovation and will reopen in mid-2018 to reclaim its place as the city's social hub. Before it closed, the Raffles served as a filming location for the movie, as it is the ultimate place to embody that "crazy, rich" life. — Stephanie Wu
Valletta, Malta
In 2018, Valletta will take over the title of European Capital of Culture, with all the attention, activities and European Union funds that come with the honor. Micro-sized Malta will also use the spotlight to encourage travelers to explore far beyond its UNESCO-protected cobbled old-town streets.
Start your trip in Valletta, the Italo-Roman capital, now internationally famous as the backdrop for many King's Landing scenes in the first season of Game of Thrones, then hit up the islands of Comino and Gozo for brilliant beach days. The ultra-liberal island nation — long a favorite for vacationing Britons, but fairly new to North American visitors — is consistently ranked as the friendliest country to the LGBTQ communities by ILGA-Europe's annual Rainbow Index. Malta's latest score is 88%, while Norway, which ranks second, has a score of 78%. — Brandon Presser
Where your next great adventure awaits
Hike, dive, or soar through these adrenaline-inducing places.
Andalusia, Spain
Andalusia's renowned architecture and agricultural landscape — it's the world's biggest olive oil producer — is best seen on a road trip. A weeklong adventure around the region's UNESCO heritage sites will give you a sweeping view of Andalusia's cultural significance from the Neolithic age to present day. Start at Seville, the region's capital, home to the Cathedral, the largest Gothic church in Europe and where Christopher Columbus is buried, and Real Alcázar, a stunning palace with sprawling gardens (make sure to buy tickets to both in advance. Top off your afternoon with a visit to the Archivo de Indias, which shows off the history of the Spanish Empire.
Next, head to Córdoba and walk through the winding streets of the city's historic center. Visit the Mezquita, with a cathedral built into a mosque, to glimpse the striped arches of one of Spain's most revered sites. The Renaissance towns of Úbeda and Baeza are well worth the 90-minute drive to see the stunning Italian humanist architecture, which blends beautifully into the countryside.
Finally, visit Granada for the Alhambra, a palatial fortress complex, followed by a walk through the Albaicín to see traditional Moorish architecture. Further afield, don't miss the three Neolithic monuments and the Berber towns of Alpujarras in the Sierra Nevada mountains. In an area known for its Moorish and Christian influences, this is the place to glimpse remnants of distinctive Berber architecture in this region of Spain. — Elizabeth Wellington
Bwindi National Park, Uganda
As Rwanda raises its gorilla trekking permit to $1,500 a day, Uganda has become an affordable, attractive alternative — permits for Bwindi National Park and Mgahina National Park go for $450 and $600, respectively, in the low season of April and May. Book your trip through Volcanoes Safaris to stay at Bwindi Lodge, ideally located on the edge of the national park.
Uganda is much more than majestic animals and vast open spaces, however. It's known as the "pearl of Africa," and has bustling cities, dazzling lakes and snowy mountains. After your safari, head to Kampala, the capital city located on the shore of Lake Victoria. Shop fair-trade items at the Kampala Fair, take in a live performance at one of the many venues and check out the Gaddafi National Mosque, where you can take in sweeping views of the city. — Alex Orlov
Lofoten, Norway
The search for the next great northern hideaway has hastened as Iceland continues to see an onslaught of tourists. The Lofoten peninsula in Norway manages to one-up all of Iceland's signature sights — waterfalls tumble from sky-piercing crags, chilly fjords brood under forgotten volcanoes and the green embers of the Northern Lights tear across the sky during the dark months.
On a map, the region looks like a long serpent's tail whipping off the coast of Norway high above the Arctic Circle, but it's actually a chain of tiny islands stitched together by roads and bridges — each town promising something different, be it kayaking, cod fishing, hiking or impeccable Nordic food. The area saw a small surge in interest after the release of the 2012 indy documentary North of the Sun, which followed two hardcore surfers as they battled the elements for the perfect break. Unstad Arctic Surf, a campground for surfers, is planning to increase the size of their accommodation offering now that cold-water surfing is really taking off.
Iceland may be attractive due to the bargain airfare deals, but Lofoten promises better value when it comes to food, lodging and activities once you're on the ground. — Brandon Presser
Queenstown, New Zealand
Welcome to the adventure capital of the world, where jetboating, ziplining, bungee jumping and hang gliding are all reasonable means of seeing the city. Those who dare should attempt the Nevis Bungy jump, a 440-foot free fall lasting 8.5 seconds that's one of the highest in the world.
When you're not out getting your thrill on, find respite at the newly opened QT Queenstown. The stylish digs are positioned for an epic view of the peaks of the Southern Alps and overlook the crystal waters of Lake Wakatipu. All 69 rooms are come with standalone bathtubs, minibars stocked with local whiskey and beds designed to help you sleep better — because your body is going to need some soothing. The hotel's restaurant, Bazaar Interactive Marketplace, opened in March and is already highly acclaimed.
There are several culinary stations, including seafood, cheese and charcuterie bars, grill stations and an entire dessert bar with homemade sweets — for those who crave a sugar rush in addition to an adrenaline one. — Kate Bratskeir
Where your stomach leads the way
If you live to eat, these celebrated food destinations will give you a taste of something unforgettable.
Bangkok
The No. 1 reason to brave Bangkok's hectic streets? The inimitable food vendors, who serve everything from moo daeng (red pork) to bua loy nam khing (sesame-filled dumplings cooked in a ginger broth) to nature's sweetest mangos. A new initiative aims to make it even easier to eat your way through the city — many of the vendors are adopting cashless payments, which improves safety for both parties, according to Eater. Michelin is preparing its Thailand guide, which will all but ensure that the most popular spots get mobbed. So plan to ask experts — your hotel concierge, your favorite food vendor — for insider tips that don't require a wait.
Bangkok recently earned a spot on Trip's 2017 LGBTQ rising stars destinations list for seeing an immense growth in welcoming LGBTQ travelers. Temple tours, floating markets and endless shopping are a few reasons to book it to Thailand's capital. And there's a ticking clock if you want to eat at Asia's best restaurant: Chef Gaggan Anand has announced he'll close his highly awarded fine-dining spot in 2020. — Kate Bratskeir
Buenos Aires, Argentina
In Argentina, you can eat some of the best food in the world at some of the lowest prices imaginable. Sure, that requires a long flight, but take a red-eye and you'll arrive to incredible grass-fed steak, at the low price of around 300 Argentinian pesos, or around $17, at old-school parillas like Don Julio and modern steakhouses like La Carniceria. At Tegui, one of the best fine-dining restaurants in the city, a five-course menu will run you $40.
The deals don't end with the food. You'll find remarkable Malbecs at a fraction of the price they'd be served in the United States. The free walking tours are top-notch and include a guided visit to La Recoleta, the gorgeous cemetery where the tombs — including Eva Peron's — are works of art.
Buenos Aires is such a steal that Booking.com named it one of the most affordable places to travel in 2018 — and to get the most out of it, travel in January or February, when the prices are the lowest of the year. — Stephanie Wu
Minneapolis
This cold, northern city, which has seen rapid growth and will host the Super Bowl in February, is also teeming with exciting food news. In the Twin Cities of Minneapolis and St. Paul, diners can try the seasonal menus at Spoon and Stable, Bachelor Farmer, Alma and Piccolo. Across the river in St. Paul, Heirloom offers elevated farmhouse cuisine — think cauliflower soup, roast chicken, carrot pasta with goat butter — in a charming room covered in reclaimed wood. Beer nerds will find hop heaven at Surly Brewing, a beer hall in the center of the city, plus there's a crop of new breweries popping up, including Cosmos Brewing, Headflyer Brewing, Pryes Brewing and BlackStack Brewing.
Minneapolis' boutique hotels are catching up to the cool culinary scene as well — choose between the Nordic-inspired Hewing Hotel, which opened in 2016 in a refurbished warehouse in the North Loop, or the new Graduate Minneapolis, located right on the University of Minnesota's campus. — Alex Orlov
Mornington Peninsula, Australia
The Mornington Peninsula, just an hour drive from Melbourne, is an area ripe with tree-lined vineyards and glamorous beach houses. The coastal cuisine is all about local ingredients, thanks to the grape-perfecting soil that's helped produce the acclaimed wines at vineyards like Paringa Estate or Yabby Lake Vineyard. At night, head to local favorite and live music venue God's Kitchen, in a church that dates back to 1876. It's got more to offer than communion wine, including grass-fed Gippsland steak and Aussie-style chicken parma — a chicken cutlet topped with ham, Neapolitan sauce and cheese. There's also craft beer at Red Hill Brewery and St. Andrews Beach Brewery.
No need to drive back to Melbourne after eating and drinking your way through the peninsula — stay at the chic Jackalope hotel, with an infinity pool and spa overlooking 27 acres of rolling vines. The property has its own destination restaurants: Doot Doot Doot has a four- or eight-course degustation menu while Rare Hare provides a more casual à la carte option.
The Mornington Peninsula might be full of high-end dining options, but the Aussies know how to keep it casual, too. To live like a local, order some fried flake and chips with chicken salt from the neighborhood fish-and-chip shop, and take it to Port Leo Beach to watch surf come in. — Katie Lockhart
Where even beer snobs will be delighted
Get ready to give your opinion on the craft brews in these suds-soaked towns.
Asheville, North Carolina
Asheville's laidback vibe and approachable size make it the ideal location for a short getaway. Visitors can take in the Blue Ridge Mountains on a hike and bag peaks like Grandfather Mountain, where Native Americans used to perform rituals. If you'd prefer pampering to huffing and puffing, head to the Biltmore, which was George Vanderbilt's 8,000-acre estate with sprawling landscapes and castle-like mansions.
Once you've worked up an appetite, focus your attention on Appalachian food, a traditional cuisine that involves Southern-style cooking but is all about foraged ingredients from the mountains. The No Taste Like Home tour shows guests how to roam the mountains for edible bounty. The tour pairs guests with well-known local restaurants (like The Market Place, Cúrate and Nightbell) to transform the foraged ingredients into appetizers.
Asheville could be America's new beer capital, with more breweries per capita than any other U.S. city. It has several funky and downright weird beer festivals throughout the year.
"It's not just the number of breweries, it's the diversity of their offerings: sours and wild beers from Hi-Wire, saisons and farmhouse ales from Burial, English Bitter and British-style Porter from Green Man, sessionable blonde ale and IPA from UpCountry and much, much more," Ben Keene, editorial director of BeerAdvocate, said in an email. Keene recommends visiting the breweries as well: Sierra Nevada's impressive "Malt Disney World," Highland Brewing's spacious rooftop beer garden and One World Brewing's tiny yet cozy taproom. Cheers to your best vacation yet. — Alex Orlov
Montreal
If you're not one of the people who actually moved to Canada after Trump was elected, this arts- and culture-driven city right over the border is must for beer lovers, or anyone seeking a getaway that feels like Europe for a fraction of the price. Québec's European-influenced beer culture means they've long perfected the beer styles that are trendy now in the United States — barrel-aged farmhouse ales, puckering sours and smoked saisons are the norm at places like Station Ho.St, the Montréal bar outpost from Hopfenstark, where metal heads and hipster geeks will feel equally at home.
Montréal's Little Italy is the unexpected neighborhood meeting every beer nerd's needs. Vices and Versa is a well-respected pub serving a robust list of mircobrews in a relaxed hangout; around the corner, La Bièrothèque beer shop offers an excellent bottle and can selection from local, independent breweries, or microbrasseries (it's also next door to a famous donut shop, Trou De Beigne); and for a brilliantly lit, Millennial pink-bathed brunch, Brasserie Harricana serves thoughtful dishes, like sturgeon croquettes or fattoush salad, paired with beers and other beverages made on-site, like hop soda and kombucha. — Cat Wolinksi
San Diego
"San Diego blends a small town and big-city feel all in one," Archana Ram, a New York transplant and senior editor at San Diego Magazine, said in an interview. "It's much more cool and modern and cutting edge than people give it credit for." Ram describes San Diego as a "city of villages," each with its own feel.
Much of the recent restaurant buzz is centered on Little Italy, where Top Chef alums Richard Blais and Brian Malarkey have launched their own mini restaurant empires: Blais with Juniper and Ivy and the fast-casual (and rapidly expanding) fried-chicken joint Crack Shack; Malarkey with Herb & Wood and its new sibling, Herb & Eatery. There's much more than pizza and pasta going on in this booming district: other diverse debuts include the ultra-glam, three-years-in-the-making steakhouse Born & Raised, the soon-to-open izakaya Cloak & Petal, the sprawling Roma Urban Market, and tapas joint Bar Bodega. Considering the city's proximity to the border — Tijuana is a 15-minute drive away — you'll find some of the country's best Mexican food in San Diego; much of it is in Barrio Logan, a vibrant Chicano neighborhood with colorful street art, cult coffee roasters like Café Moto and Café Virtuoso, and great restaurants aplenty (Las Cuatro Milpas and Salud! have some of the best tacos north of the border).
And San Diegans leave the wine swilling to Napa and Sonoma — this part of the state is the craft beer capital of America, with more than 150 independent breweries. Ones to keep an eye out for in 2018: Creative Creature and Full Body Brewing. — Sarah Khan
Where a short trip leads to big rewards
We're not saying you couldn't spend more than three days here, but these places are easy to explore if you're tight on time.
Grenada, Caribbean
It doesn't take long for visitors to Grenada to understand why this southern Caribbean gem is widely known as the "Spice Island." Encompassing a mere 131 square miles, it's blessed with an abundance of nutmeg, mace and other savory spices that show up in nearly every local dish.
Grenada's profusion of spices complement natural wonders that range from lush mountain peaks teeming with indigenous flora to plunging waterfalls. Its numerous dive sites include a magical, underwater sculpture park, where the sculptures reflect aspects of Grenadian culture while forming an ideal substrate for marine development.
Typical Grenada accommodations feature small-scale hotels and a handful of upscale resorts, including the Spice Island Beach Resort and the Sandals La Source Grenada Resort & Spa. Silversands, a high-end 43-suite boutique property, will launch in March. It overlooks Grand Anse Beach, easily one of the Caribbean's finest.
For an under-the-radar experience, visit Grenada's sister island of Carriacou (90 minutes from Grenada by ferry; 20 minutes by air). It's an ideal day trip for top-shelf diving and snorkeling from deserted, calm-water beaches and pristine coral reefs. Best of all, Grenada couldn't be easier to access — it's just a short flight from hubs like New York, Miami, Atlanta and Toronto. — Brian Major
Houston
After surviving the wreckage of Hurricane Harvey and pulling off a historic World Series win, Houston is primed to start 2018 with a renewed sense of confidence, determination and swag. Old neighborhoods are being reimagined as niche creative communities and an expanded light rail system has made downtown more conducive to brunching and bar hopping.
In February and March, people will descend upon the city for the annual Houston Livestock Show and Rodeo, with its frenzied calf scrambles, concerts and barbecue contests. Tex-Mex is at its finest at December's annual Tamale Festival, and those who happen to be visiting in June can stop by Emancipation Park for the city's yearly Juneteenth celebration.
No trip is complete without visiting the John T. Biggers art collection at the University Museum at Texas Southern University, a historically black college located in Houston's historic Third Ward. Once a hub for soul food kitchens like Alfreda's Cafeteria and nameless neighborhood fish spots, the area now includes flavorful vegan spots like Doshi House and Sunshine's Vegetarian Deli. Third Ward is also home to Frenchy's Chicken, which Beyoncé has name-checked in her music and visited when she was in town for Hurricane Harvey relief. But visitors will have to act fast if they want to eat at the flagship location — it's slated for relocation in the spring. — Jada F. Smith
Mexico City
Despite the devastating earthquake in September, travelers shouldn't be deterred from visiting this dynamic destination. Not only is Mexico City the 2018 World Design Capital — the first destination in North America to earn the honor — but it's also an easy getaway, with nonstop flights from most major U.S. cities. And though the peso is stronger now than it was in early 2017, you'll still find great value — especially when it comes to the delicious food. (Tacos go for mere cents; don't miss the ones filled with chicharrón from the Meche y Rafael butcher stand at Mercado de Medellín.)
While many buildings in the popular tourist area of Condesa saw structural damage, recent tourists say signs of it there are hard to see. "The quake sparked a genuine solidarity and generosity here, and people pitched in to quickly clear the streets of rubble and debris," said Rafael Micha of Grupo Habita, which owns four hotels in the city, including Condesa DF, a well-located, stylish base. And other areas, like Polanco, home to high-end boutiques, chef Enrique Olvera's new-and-improved Pujol, the Museo Soumaya and Museo Jumex, were relatively unscathed.
There are plenty of popular sights worth joining other tourists for: the zócalo and Palacio de Bellas Artes in central district; the expansive, lush and museum-filled Bosque de Chapultepec; and Museo Frida Kahlo among them. But for something totally different, grab an Uber about 10 miles south to the campus of the National Autonomous University of Mexico, which also happens to be a UNESCO World Heritage site. (Just don't go during rush hour, when traffic is notoriously awful.) Here, you'll find a large-scale mosaic by Mexican architect and artist Juan O'Gorman, the Universum science center and a peaceful nature reserve and botanical garden. Consider it the ideal place to walk off all the tacos you've been eating. — Brooke Porter Katz
Stowe, Vermont
Stowe is much more than a desirable ski spot: Biking, hiking, snowshoeing, horseback riding, ice climbing, dog sledding, kayaking, swimming (under waterfalls, if you want) — it's all possible in the charming northern town that's surrounded by both dense forest and mountainous peaks. In snowy season, stay at Stowe Mountain Lodge, where you can sleep in one of the new 3,000-square foot ski-in ski-out residences — it makes being one of the first to hit that fresh powder at Spruce Peak at Stowe Mountain a whole lot more likely.
In warmer months, challenge your legs to a journey up Mount Mansfield, Vermont's highest mountain, which peaks at 4,395 feet above sea level. Smuggler's Notch State Park is another worthy attraction open from mid-May to mid-October, ripe with scenic hikes, pet-friendly walks and plenty of mountain biking trails. Inside the park, after a sweaty hike, you might take a dip in a swimming hole like Rum Runners' Hideaway, a mountainside reservoir equipped with an aqua jump trampoline, or Bootleggers' Basin, with a bounty of water sport opportunities, including a chance to soar in the air with the futuristic Fly Board. — Kate Bratskeir