Beyoncé — a beacon of hope, light and goodness — had the most-liked Instagram post of 2017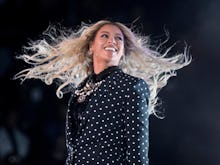 Despite this being an absolutely flaming garbage fire of a year, a select few women have been a constant beacon of love, light, hope and goodness. Cardi B, Nicole Kidman and Rihanna are among them. But perhaps the woman who has emitted the most of all the good and pure things this world still has to offer is Beyoncé.
With every good thing she offers us, we are forever thankful. And when it comes to her Instagram posts, all of which are utterly legendary, we guess her 108 million followers can't help but tap that like button. That's a long way of saying that this year, Beyoncé had the most-liked Instagram post, according to the Hollywood Reporter.
The post, which earned 11.1 million likes, came to us in February, when Beyoncé announced her pregnancy with two of the future leaders of the world. (We kid, but not really.)
To gain a bit of perspective, Selena Gomez had the most-liked Instagram of 2016. Justice.
Bey had the third most-liked post of 2017 as well, when she posted the first picture of the twins, getting 10.2 million likes.
Weirdly, just three different accounts were responsible for the 10 most-liked images this year, with Bey joined by soccer superstar Cristiano Ronaldo and yeah, Selena Gomez.
Thank goddess for Bey.