John Conyers resigns amid sexual harassment allegations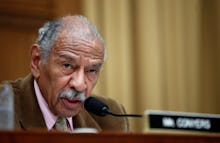 Rep. John Conyers (D-Mich.) resigned from Congress on Tuesday amid a growing number of sexual harassment allegations levied by former staffers.
Conyers, 88, made the announcement from a hospital bed, and endorsed his son to succeed him in his Detroit-based House seat.
Multiple former staffers have accused Conyers of sexual harassment.
One former female staffer — who said Conyers asked for sexual favors in a hotel room — settled a lawsuit with the congressman in 2015. Another former female staffer said he touched her multiple times in an unwanted sexual manner, and also undressed in front of her in the hotel room he forced her to stay in during a work trip.
Conyers had already stepped down from his leadership role as ranking member of the House Judiciary Committee. Now he says he will resign from Congress entirely, an embarrassing end to his long tenure.
The resignation is a stunning fall from grace for Conyers, who is currently the longest-serving member of the House and one of the 13 founding members of the Congressional Black Caucus. He was first elected to the House of Representatives in 1964.
Conyers had denied the harassment allegations against him.
However, current members of the CBC worked behind the scenes to get Conyers to step down, according to CNN.
And House Minority Leader Nancy Pelosi — who initially stumbled in an interview when asked about the allegations against Conyers — eventually said Conyers' decision to step aside was the right thing to do.