As the Victoria's Secret Fashion Show ratings plummet, it's time to consider plus-size models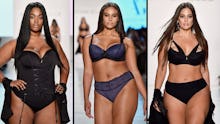 The 2017 Victoria's Secret Fashion Show turned out to be a bit of a shitstorm. Before the event, there were a ton of visa problems. During the event, a model fell (which Victoria's Secret chose to show on TV, enraging many) and there was a segment that had models in outfits that were super appropriative. After its airing, a video surfaced showing the models backstage, singing along to a song that includes a racial slur.
All that for what? More disappointing ratings.
According to the Hollywood Reporter, the Victoria's Secret Fashion Show slipped dramatically in its ratings once again, hitting a new low. Averaging a 1.5 rating among adults aged 18 to 49, that's a nearly 30% dip from the 2016's show, which averaged a 2.1 rating.
It's not all that surprising. In order to get viewers, you have to have a real reason for them to tune in. You have to have more than Harry Styles and Miguel (no shade) and a bunch of models we've already seen in lingerie walk in the show.
So, naturally, we have a few ideas for how Victoria's Secret can get its mojo back. The show needs models who are new and unexpected. Models who don't look like Gigi Hadid and Kendall Jenner. Models who will get viewers to tune in, in hopes of seeing history be made.
It's now time to consider plus-size and curve models just like it was time last year, and the year before that.
It should be noted too that the brand's negligence towards plus-size women also extends far beyond just the fashion show. The brand itself only goes up to a size XL, which obviously isn't doing favors for its sales. In May, CNBC published a report claiming that since Victoria's Secret had stopped producing swimsuit apparel, the company experienced reduced sales of 6% and that the company was "getting weaker by the day."
Not opening up the brand to plus sizes, or even women who wear an XXL, isn't helping those numbers.
So anyway, yes, it's time for Victoria's Secret to liven things up a bit, and get smart to the fact that most American women — aka their customers — are larger than a size 12.
If they want to see exactly how a beautiful, sexy plus-size woman walking down their runway would look, they've got a few good examples. For starters: Addition Elle.
At New York Fashion Week in September, the brand had models like Ashley Graham, Marquita Pring and Precious Lee stomping down a runway in bras, corsets and thongs, with women cheering in the stands.
Honestly, just add some wings and you're at the damn Victoria's Secret fashion show, as Ashley Graham showed herself on Instagram.
Another example of brands featuring plus-size women is Chromat, which at NYFW had women of different shapes, sizes, ages and gender identities in swimwear and activewear that'd fit beautifully into the show.
All those models killed it. And speaking of identities, transgender models could absolutely have a place on that Victoria's Secret runway. Models like Leyna Bloom (who's fierce and opened that Chromat show) are already campaigning Victoria's Secret to think of women like her.
And they should. Why not? What does Victoria's Secret really have to lose?
The addition of any new woman, whether she's curve or truly plus sized or trans or disabled, would be a welcome and necessary addition to a now outrageously outdated-looking fashion show.