A video of Victoria's Secret angels singing a racial slur has sparked a massive backlash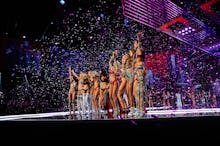 Add this to the list of multiple crises and problems surrounding the 2017 Victoria's Secret Fashion Show.
On Wednesday, a video was posted to Twitter showing a number of the Victoria's Secret Fashion Show models singing Cardi B's hit "Bodak Yellow" backstage.
The problem? In a room nearly devoid of black models, you can hear them clearly singing the word "nigga" in Cardi B's line: "I don't wanna choose/And I'm quick, cut a nigga off, so don't get comfortable."
People on Twitter were quick to point that out.
Cardi B herself also retweeted a tweet (seen below) mentioning that fact.
Cardi B might release a statement of her own soon, and if Victoria's Secret finds issue with the video too, then we could see one from the company as well.