Air France just launched a "millennial airline" with $46 fares. Will it succeed?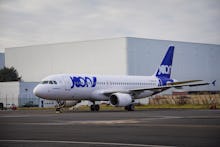 On Dec. 1, Air France will follow in the footsteps of other legacy liners like British Airways and United to debut its youthful new airline-within-an-airline, Joon. To attract a new generation of travelers — namely, those under 35, Air France is looking to combine the best of both worlds: the budget fares of EasyJet, with the elevated experience of JetBlue and Virgin Atlantic.
To draw in younger travelers, "youthful" airlines tend to play up appearances and low ticket prices. In reality, these measures are often ways for parent companies to cut costs by pulling back on quality and relying more on quantity. The nickel-and-diming trend has swept the market for years now, as airlines charge passengers for "extras" from bags to meals — with carriers like Spirit Airlines even charging for carry-ons.
But Joon is the first of a new crop of millennial-focused liners looking to mask additional charges with a cool factor, using a low-cost airline approach (fares start at 39 euros, or $46) that's spruced up with amenities like a partnership with Airbnb Experiences, organic snacks, flight attendants' upcycled uniforms from recycled plastic bottles and an in-flight streaming system programmed with edgier stations like Red Bull TV and Viceland.
George Hobica, founder and president of Airfarewatchdog, compares Air France's Joon to Delta's airline-within-an-airline Song, which targeted a younger, cost-conscious traveler. In 2005, after just 31 months on the market, Song quickly folded back into its parent company despite eye-catching lime green planes, Kate Spade-designed flight attendant uniforms and amenities like apple martinis. "These attempts of brands-within-brands have not been successful in the past," Hobica said in a phone interview. "They're kind of too little, too late to compete with the WOWs and Norwegians."
The all-business-class French airline La Compagnie, meanwhile, went a different route when it joined forces in December 2016 with low-cost French carrier XL Airways to reduce costs and make both airlines more profitable.
With 60% of its passengers previously flying business class on other airlines, La Compagnie's goal, according to head of marketing Anne Crespo, is to offer the best value for business class, making top-notch cuisine an essential piece of the product. "We do not try to cut costs in this field, and as a French airline, it is important that we offer exquisite cuisine," she said by email. "Offering Michelin-starred menus doesn't necessarily mean paying more. The chefs we are working with understand our budget constraints and therefore create menus accordingly by using fresh products and their creativity."
While catering will be included in Joon's business section, economy passengers can pay for one of the 60-plus snack options, 20% of which are touted as organic. And unlike budget carriers like Ryanair, Joon's basic fare includes complimentary drinks like organic Segafredo coffee and tea, as well as the chance to earn Flying Blue frequent flyer miles.
"What I think [Joon is] doing right is streamlining the travel experience and giving consumers more of what they want and less of the pomp and circumstance that used to be desirable in travel," said Michael Parrish DuDell, chief strategy officer at CouponFollow and best-selling author of Shark Tank's business book series, in a phone interview. "Figuring out how to à la carte these services and strip away the floss, the extra amenities, I think that'll be the future of a lot of these companies."
In-flight entertainment systems, for example, are one of the largest expenses when it comes to outfitting a plane, accounting for 10% of a new aircraft's overall cost, or roughly $3 million to $8 million. If you take into consideration that 90% of passengers bring their own devices on board, the elimination of seat-back screens is a way to cut costs on an amenity travelers won't miss — and one that many mainstream airlines like American Airlines have already done away with.
The millennial market comprises 38% of all air travelers but only makes up 22% of Air France's passengers. With Joon, the airline is looking to capture a larger segment of this market by relying on a hybrid approach that's a cross between a traditional airline and a low-cost carrier, operating at costs 15% to 18% lower than Air France.
"For Air France, this is a complete win," Tom Spagnola, vice president of supplier and strategic partner relations at Fareportal, said by phone. "With airlines like Joon, travelers can have the 'normal' airline experience with a customized, personal touch. It's all part of looking at the lifestyle that appeals to millennials. For them, it's like a fashion brand."
With low-cost carriers accounting for half of air travel within Europe, this step is a strategic one for Air France-KLM, whose portfolio already includes low-cost carrier Transavia.
"There is a difference between low cost and lower cost and that nuance is a lot of times being lost in the conversation," DuDell said. "Joon is not trying to be a Ryanair; it's not trying to be an EasyJet. It's going a little bit north on the price point and on the level of service, but it's staying under a traditional Air France fare."