Garrison Keillor fired from Minnesota Public Radio following allegations of "inappropriate behavior"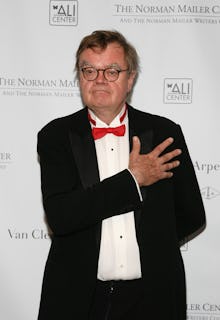 Garrison Keillor, the former host of the nationally syndicated radio show A Prairie Home Companion, has been fired from Minnesota Public Radio over allegations of "inappropriate behavior."
In a statement posted to MPR's website, the company said it terminated its contracts with Keillor "and his private media companies" immediately after "learning of allegations of his inappropriate behavior with an individual who worked with him."
The news of Keillor's firing was first reported Wednesday by the Associated Press. Keillor, 75, told the AP in a statement he believed the allegations against him were "more interesting and more complicated than the version MPR heard."
In an email sent to the Star Tribune Wednesday, Keillor said he was fired for putting his "hand on a woman's bare back."
"I meant to pat her back after she told me about her unhappiness and her shirt was open and my hand went up it about six inches," he told the Tribune. "She recoiled. I apologized. I sent her an email of apology later and she replied that she had forgiven me and not to think about it. We were friends. We continued to be friendly right up until her lawyer called."
Keillor said he "was the least physically affectionate person" at his show, and called his firing "poetic irony of a high order."
"If I had a dollar for every woman who asked to take a selfie with me and who slipped an arm around me and let it drift down below the beltline, I'd have at least a hundred dollars," Keillor wrote in the email.
MPR did not provide details of the alleged misconduct but said it had been told of accusations related to "Keillor's conduct while he was responsible for the production of A Prairie Home Companion." The company said it had not found other allegations of misconduct through an investigation launched in October, but that an independent investigation into the matter is "still ongoing."
Keillor's Saturday-evening variety show debuted in 1974. The show, which took place in the fictional Minnesota town of Lake Wobegon, included an eclectic collection of folk music, poetry readings, sketch comedy and occasional interviews. Keillor hosted the show until 2016, when Chris Thile, a folk mandolinist who had regularly appeared on the program, took over hosting duties at Keillor's request.
MPR said it will change the name of APHC in the wake of the news. MPR will also end its distribution and broadcast of Keillor's The Writer's Almanac and will not rebroadcast episodes of APHC hosted by Keillor.
"While we appreciate the contributions Garrison has made to MPR and to all of public radio, we believe this decision is the right thing to do and is necessary to continue to earn the trust of our audiences, employees and supporters of our public service," MPR president Jon McTaggart said in the statement.
Keillor is the latest man in the media industry to face accusations of misconduct. NBC news fired longtime Today show anchor Matt Lauer on Wednesday for "inappropriate sexual behavior in the workplace." Charlie Rose, a co-anchor of CBS This Morning and mainstay in television news, was fired Nov. 21 following allegations of sexual harassment on the nationally syndicated Charlie Rose Show.
Nov. 29, 2017, 2:31 p.m.: This story has been updated.