Trump's "Britain First" retweets are the latest challenge to US-UK relationship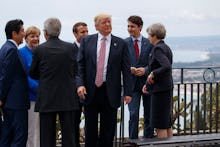 British Prime Minister Theresa May said in a statement Wednesday that President Donald Trump was "wrong" when he retweeted three anti-Muslim videos posted by Jayda Fransen of Britain First, a racist far-right extremist group in the United Kingdom.
"Britain First seeks to divide communities in their use of hateful narratives which pedal lies and stoke tensions," May said. "British people overwhelming reject the prejudiced rhetoric of the far-right, which is the antithesis of the values that this country represents: decency, tolerance and respect.
"It is wrong for the president to have done this."
The three unverified videos depict Muslims committing acts of violence and vandalism.
Fransen, who was convicted of harassing a Muslim woman in 2016 and was charged earlier in November with "threatening" behavior over comments she made at a rally in Northern Ireland, thanked Trump on Twitter for promoting her message.
Trump is changing U.S. relationship with allies
Trump is no stranger to hostile rhetoric toward Muslims.
During the campaign, he called for a "total and complete shutdown" on Muslims entering the United States and signed travel bans targeting majority-Muslim countries soon after coming into office. He also called for "much tougher" immigration laws after an Uzbek immigrant drove a truck down a bike path in lower Manhattan in October, killing eight and injuring several others.
But his racist retweets Wednesday represent the latest challenge Trump poses to the relationships between the U.S. and its allies.
To be sure, May has also offered praise for the president in the past, despite criticizing him for validating the British fringe group. Canadian Prime Minister Justin Trudeau, French President Emmanuel Macron and Germany Chancellor Angela Merkel have also acted warmly toward Trump on occasion.
Trump's policies and behavior, though, have repeatedly drawn scorn from the international community and called America's overall standing into question.
For example, his decision to pull out of the Paris climate agreement over the summer was met with widespread scorn from world leaders, including Macron, who said it was time to "make the planet great again" — a reference to Trump's oft-repeated campaign slogan.
More broadly, Trump's inexperience, unpredictability and nationalistic "America First" agenda seem to be reshuffling the deck when it comes to global affairs.
Many have suggested the U.S. is no longer the "leader of the free world." Following a Trump visit in May, Merkel said Europe "must take our fate into our own hands" — signaling the chancellor may no longer consider America a reliable ally.
That's a feeling common to many around the world, according to a Pew poll released in June. In a survey of more than 40,000 people in 37 nations, just 49% of respondents said they had a favorable view of the U.S., down from 64% at the conclusion of former President Barack Obama's tenure.
That dramatic downtick seems not merely correlated with Trump's rise to power, but caused by it — the survey also found that confidence in the U.S. president had dropped from 64% to just 22%. Seventy-four percent of respondents said they had "no confidence" in the American leader.
This isn't the first time Trump has been criticized internationally over his treatment of Muslims, either. In an apparent response to Trump's travel ban, Trudeau tweeted in January that refugees would be welcome in his country.
"Diversity is our strength," Trudeau tweeted.
White House press Secretary Sarah Huckabee Sanders defended Trump's controversial "Britain First" tweets Wednesday, saying reporters and critics were "focusing on the wrong thing" when they questioned the veracity of the videos he legitimized on his Twitter feed.
"The threat is real," Sanders said. "There's nothing fake about that."