A Trump communications staffer just gave travel ban opponents their biggest gift yet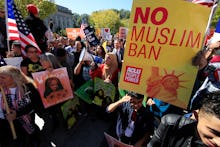 A White House communications staffer on Wednesday gave opponents of President Donald Trump's amended travel ban ammunition to fight the ban in court.
White House deputy press secretary Raj Shah was asked about Trump's retweets of inflammatory anti-Muslim videos Wednesday morning, and whether Trump thinks Muslims are a threat to the United States.
"The president has addressed these issues with the travel order ... he issued earlier this year, and the companion proclamation," Shah told reporters aboard Air Force One as Trump traveled to Missouri for a speech on tax reform.
"There are plenty of Muslim-majority nations whose citizens can come to the United States without travel restrictions. Those that pose public safety or terrorism threats, to our worldwide security review that was overseen by the Department of Homeland Security, is why there were certain travel restrictions put in place," Shah added.
Shah's response is quite the gift to those fighting the travel ban in court. Opponents of the ban say it was created with the intent to discriminate against Muslims — as Trump had promised during his presidential campaign to ban Muslims from entering the United States.
The Trump administration has denied that the ban — which was revised earlier this year after a legal fight — had anything to do with religion, telling the Supreme Court in a briefing that the ban "is based on national-security and foreign-affairs objectives, not religious animus." The administration has also asked the court to allow the ban to go into effect completely as it makes its way through the federal court system.
The latest incarnation of the ban now includes North Korea and some Venezuelan politicians to the list of countries in the travel ban.
However, opponents argue that those additions were merely a smoke screen to cover that the fact that the order was intended to discriminate against Muslims.
Two federal courts are slated to hear challenges to the revised travel ban in early December — one court in San Francisco and another in Richmond, Virginia. Those cases, filed by state attorneys general and civil rights groups, argue that the ban is unconstitutional because it specifically targets Muslims.
Opponents of the ban were already cheering Wednesday morning when Trump retweeted anti-Muslim videos from an Islamophobic British figure.
"Thanks! See you in court next week," Neal Katyal, a lawyer arguing against the travel ban, tweeted after Trump retweeted the videos.
But Shah's comments are also likely to be used in arguments in court.
"We've always known it's a Muslim ban," the American Civil Liberties Union, which is fighting the ban, tweeted in response to Shah's comments. "That's why it's unconstitutional. #NoMuslimBanEVER"