Neo-Nazi wealth is rapidly growing. Why? Bitcoin.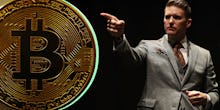 In many ways, white nationalists were the big losers after the Unite the Right rally in Charlottesville in August. First, they lost web hosting for neo-Nazi hives like Stormfront. Some far-right attendees lost access to Uber or their social media accounts. Others lost meeting venues and were driven out of subsequent public spaces during follow-up rallies. And of course, some attendees, such as those who were exposed in photos taken at the infamous torch-lit march the night before the rally, lost their jobs.
In that time, they were also essentially forced to invest in bitcoin, and after the cryptocurrency's meteoric rise throughout 2017, that financial move has broadened their wealth significantly.
After the Charlottesville protests, many white nationalists lost access to money-transfer services like Apple Pay and PayPal, and therefore turned to bitcoin, doubling down on their investment or creating wallets to experiment with the apolitical cryptocurrency.
In the past few months, the price of bitcoin soared to record heights, reaching a trading price over $11,000 per coin on Wednesday. Throughout this boom, white nationalist wealth has grown, with some of the country's most virulent celebrity racists often raking in thousands of dollars in a single day.
Bitcoin can be used anonymously, but in order to accept donations, white nationalists had to de-anonymize themselves. So John Bambenek, a cybersecurity researcher and threat analyst, created a Twitter bot to follow and collect this information. It's from that bot, @NeoNaziWallets, that Mic has collated and graphed this behavior. Even so, while anyone can watch the money move in and out of accounts, it's uncertain where the money travels to, who is contributing and how many other digital wallets are involved in the network of white supremacist bitcoin users.
A quick primer: Bitcoin is a system of holding and transferring money where instead of dealing with central banks, individuals exchange their coins peer-to-peer, protected by encryption. On the web, cryptocurrency gained notoriety as a means to anonymously buy and sell illegal goods. Globally, bitcoin has drawn interest from countries like Venezuela and Zimbabwe, where the future of the local currency is uncertain.
The cryptocurrency is also pretty attractive to those who believe in anti-Semitic conspiracies about greedy, often assumed Jewish, overlords who engineer our society through control of central banks. In March, Richard Spencer declared bitcoin "the currency of the alt-right" — though that should be taken with a grain of salt. The alt-right will lay claim to anything from New Balance shoes to Papa John's pizza if it suits them.
Still, since Charlottesville, white nationalists who ramped up their investment in bitcoin have seen their virtual wealth grow.
The clearest case of such growth is with Counter-Currents, a publishing house for books like Trevor Lynch's White Nationalist Guide to the Movies and Toward the White Republic. From late August until Wednesday — our observation period for the data — the wallet for the far-right publisher held at about 7.7 bitcoin, including some tiny contributions (possibly donations) along the way. Its wealth more than doubled, netting them about $41,000 between Sept. 2 and Tuesday. And then by Wednesday it made $5,859 more.
Bitcoin's been particularly useful for Andrew Anglin, a neo-Nazi leader who's been in and out of the public eye since the Southern Poverty Law Center filed a potentially debilitating lawsuit against him. Bambenek has estimated that Anglin has taken in about $250,000 in bitcoin since 2014.
On Oct. 1, the Daily Stormer withdrew $64,353, reaping the early rewards of the bitcoin boom, shortly after making about $2,202 in just one day. Since then, the balance for the Daily Stormer has been fairly level, as whoever manages the wallet skims the occasional few hundred dollars off the account, with some withdrawals as high as $1,602.
Other white nationalist experimentations in bitcoin are fairly meager. Spencer — president of the National Policy Institute, a white nationalist think tank — had about $3 in bitcoin sitting in an account until Nov. 22, when roughly $1,000 in bitcoin was transferred to the wallet. As of Wednesday, he had about $1,317. Vanguard America, a militant white nationalist group with a large contingent in Charlottesville, grew a small balance from roughly $218 on Aug. 27 to about $533 on Wednesday with no new deposits.
One neo-Nazi stands above the rest in his bitcoin usage: Andrew "weev" Auernheimer, who's received over $1 million in bitcoin, according to one report. Even though Auernheimer has withdrawn roughly $118,620 from his bitcoin wallet between late August and Wednesday, his remaining bitcoin store has been replenishing his wealth throughout the recent bitcoin boom.
While bitcoin is an effective, apolitical escape pod for moving money away from services that become inhospitable to hate groups, many mainstream wallet providers can still de-platform white supremacists. After the Charlottesville rally, Coinbase allegedly kicked users off of its wallet-providing service for donating to the Daily Stormer.
In the meantime, all of the transactions moving in and out of the identified wallets are still in public.
"The disadvantage [for neo-Nazis] is that I can see their transactions, I can see when they're spending money, and given effort and investment of time, I could figure out who is donating to them also," Bambenek told Mic.
Bambenek said his next project is to chart the web of transactions around the neo-Nazi bitcoin wallets to try to determine where the money is going and, potentially, the identity of the donors using cryptocurrency to lend thousands of dollars to the white nationalist cause.