Meet Billie, a subscription box shaving service aimed at destroying the unfair "pink tax"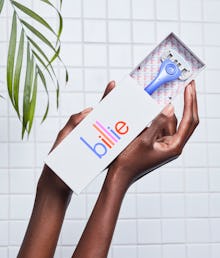 As Mic has pointed out time and time again, the "pink tax" — the hidden fee regularly placed on products marketed towards women — is alive and well. It's what makes pink razors almost always more expensive than blue razors at your drug store, and it's even affecting women's clothing prices too.
Enough is enough, say the founders of Billie, the new subscription box shaving and body care service aimed at cutting the cost of women's razors and ending the pink tax for good.
According to its founders, Georgina Gooley and Jason Bravman, the box came out of a frustration with women not getting the same quality razors as men for the same price.
"I was shaving with men's razors because I read about this notion of the pink tax," Gooley said in an interview with Mic. "Out of principle I didn't want to give these brands my money. I was buying men's razors. My background's in advertising and branding, and I was always thinking about how the shaving world was centered around men."
There are things like the Dollar Shave Club, the subscription service focused on giving men the cheap — yet quality — razors they need, but not exactly a service like that for women.
"I felt like women basically have two options," Gooley said. "They can overpay for a really premium shave experience, or you can opt to buy a men's razor which isn't designed for the way we shave in the shower. You're shaving 10 times the surface area. You're maneuvering different angles."
So when Gooley and Bravman, who comes from a business background, were put in touch by a friend, who knew both were thinking about this space in the industry, a little more than a year ago, they decided to take action.
To start using Billie, customers can order the $9 starter kit: a razor handle, which comes in cute colors such as Billie blush and Periwinkle pop; two blade cartridges, which come surrounded by aloe for a clean shave; and a razor holder, which Gooley and Bravman worked to revolutionize.
"We asked women, 'Do you want a holder?' and they said yes, but every holder they've had is ugly and falls down," Bravman said. "So we solved that by making the smallest, most unobtrusive holder. When it's on the wall and you're looking at it straight on, you don't see the holder. Instead of a suction cup, there's this power putty, and the razor is held in by a powerful magnet."
Problem solved. When you order the initial kit, you can sign up for razor refills, which come in packs of four. Billie has other products too, like shaving cream, body wash and body lotion for $8, $9 and $12 respectively.
How'd they get these products, all of which are vegan, toxin-free and paraben-free, so cheap? By cutting out the middlewoman.
"We like to say we cut out the middlewoman," Bravman said. "The fact is that this is an industry that has been dominated by a couple players, largely Gillette. Because of that, prices have been kept artificially high. We're going direct to the consumer. We're focusing on what our customers want first."
With a goal of being truly woman-focused, the company is also offering what's known as their pink tax rebate. By sharing a referral link to Billie with friends, customers get a coupon for their next Billie purchase. For every five, 10 or 20 friends that click on that link (and they just have to click and enter their email address, not buy anything), Billie will provide a $5, $10 or $20 credit for them to use.
"Not only was it important to price on par with the male subscription space, but we wanted to raise awareness of the pink tax," Gooley said. "We said, 'Wouldn't it be cool to be a new razor company and be like, hey, why don't we give you this money back for overpaying all these years for razors?' We are a female-first shave and body brand."
Meant to last just the first two weeks, the founders revealed that the pink tax rebate isn't going away anytime soon. Further expressing the brands's female-first attitude, 1% of all its revenue goes to women's causes and charities.
"We think this should show that women shouldn't be ignored," Bravman said. "The real reasons we started this is we thought, 'Why is everyone focusing on men? Thinking as if men are the only people who shave?' You walk down the street, every other person you pass is a woman. They were being underserved by the new startups even. It's about delivering great products to our customers. We're focused on the customer experience and whether they're happy."