Trump says the US hasn't had a tax cut since Ronald Reagan. That's not true.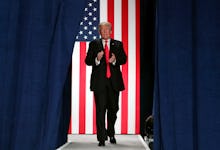 President Donald Trump suggested during a Missouri rally Wednesday that the United States has not seen a tax cut since the Reagan administration — a claim that is completely untrue.
"For years, they have not been able to get tax cuts. Many, many years. Since Reagan," Trump said. "The problem was, they talked about tax reform, not tax cuts. I said, 'Don't call it reform. Call it tax cuts — and reform.'"
This, of course, is completely false.
Trump is proposing some of the most dramatic tax cuts in more than 30 years. But the U.S. has, indeed, seen tax cuts since former President Ronald Reagan was in office — perhaps most notably during the George W. Bush administration.
Bush famously slashed taxes in 2001 and 2003. Though those cuts lifted take-home pay for middle-class earners, they also caused a spike in the federal deficit and helped the rich get richer.
The Republican tax plan Trump promoted in St. Charles, Missouri, on Wednesday is likely to similarly raise the deficit and benefit the wealthy — including Trump and members of his family.
But the president continues to insist the plan is actually "not good" for him and claims other rich people are upset with him over the tax plan.
Trump played the hits during his tax plan pitch in Missouri, slamming "obstructionist" Democrats, promising to build a wall along the country's southern border with Mexico and even squeezing in a random reference to "Little Rocket Man" — his nickname for North Korean leader Kim Jong Un.
He also bragged about the state of the economy under his administration, but said the hurricanes that devastated Texas, Florida and Puerto Rico stifled growth. He said the U.S. "took care of them," though, and that Puerto Rico is "doing well."
The U.S. territory is still struggling to get electricity to many parts of the island.
According to Trump, however, "there has never been a 10-month president [who] has accomplished what we have accomplished." He also said things are going so well, critics will soon say "Trump is the exact opposite of an exaggeration."
Referencing his presidential campaign line that the U.S. would "get tired of winning," he added, "I used to say it, and that's what's happening!"
Trump — standing before a row of red, white and blue Christmas trees and behind a podium bearing the words "Merry Christmas" — concluded by tying his "beautiful" tax cuts and his culture war narratives together in a neat little bow.
"You don't see 'Merry Christmas' anymore," Trump said. "With Trump as your president, we are going to be celebrating 'Merry Christmas' again, and it's going to be done with a big, beautiful tax cut!"