Murkowski says she will vote for Republican tax plan, bringing bill one huge step closer to passing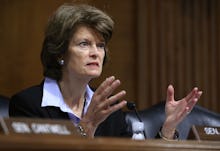 On pivotal votes to repeal the Affordable Care Act in the Republican-controlled Senate, Sen. Lisa Murkowski (R-Alaska) defected from her party, giving the Democrats the votes they needed to thwart the bills' passage. Murkowski's repeated breaks from the Republican Party garnered her status as a key senator to watch ahead of the GOP's effort to pass its tax bill before the year ends.
On Wednesday, Murkowski's office told MSNBC correspondent Garrett Haake she would vote in favor of the federal tax system overhaul, bringing the bill one major step closer to passing in the Senate.
Murkowski's announcement comes one day after Sen. Susan Collins (R-Maine), another holdout on the ACA repeal efforts, told reporters she was feeling "optimistic" about the tax bill after meeting with President Donald Trump on Tuesday.
As of press time, Senate Democrats do not have the number of votes required to kill the bill. Only Republican Sens. Ron Johnson of Wisconsin and Steve Daines of Montana have publicly stated they do not currently support the bill. Senate Dems need one more Republican to defect.
That final defector may be Sen. John McCain (R-Ariz.), yet another ACA holdout whose vote against the so-called "skinny repeal" in July was cast as the dramatic final nail in its coffin. On Wednesday, the long-serving senator told reporters he was still undecided on the tax plan, according to CNN.
Vox noted that Democrats may be crossing their fingers for Sens. Bob Corker of Tennessee and Jeff Flake from Arizona, who are both retiring in 2018, to cross over to their side. The outlet noted that both senators have voiced their concerns on how the Republican tax plan adds to the federal deficit. Both have also made headlines for their fiery, antagonistic relationships with Trump.
Like the tax bill that passed the House, the Republican Senate tax plan changes the tax brackets, lowers the corporate tax rate and almost doubles the standard deduction. However, the proposed Senate overhaul eliminates even more state and local tax deductions, which a Mic analysis predicted could anger voters in states with high tax rates.
An analysis from the nonpartisan Congressional Budget Office published Sunday found the Senate tax plan would hurt the poor, slash taxes for the rich and kick 17 million Americans off their health insurance by 2027.