After his controversial tweets, UK politicians want to cancel Trump's state visit — again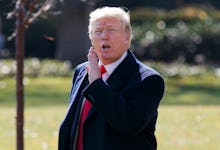 Mayor of London Sadiq Khan, along with some British members of Parliament, are calling on Prime Minister Theresa May to revoke an offer to host United States President Donald Trump for an official state visit, after Trump on Wednesday retweeted incendiary and unverified anti-Muslim videos from an extremist British hate group.
"President Trump has used Twitter to promote a vile, extremist group that exists solely to sow division and hatred in our country," Khan said in a statement Thursday morning. "It's increasingly clear that any official visit from President Trump to Britain would not be welcomed."
Other U.K. politicians and public figures have condemned Trump's retweets of the videos — which were originally posted by Jayda Fransen, deputy leader of far-right and ultranationalist British political organization Britain First.
Brendan Cox, whose wife, 41-year-old Labour Party Member of Parliament Jo Cox was stabbed to death by a man who shouted "Britain First," equated Trump retweeting Fransen's videos to "retweeting the Ku Klux Klan." Jo Cox was a supporter of the "Remain" campaign during the Brexit vote.
"This organization is one that has very strong connections to violence," Cox said on CNN Wednesday night of Britain First. "It's an organization on the far extremes of politics and, you know, for a country — for a president to be legitimatizing these voices, it has real impact." 
"This isn't a hypothetical," he added. "This isn't something which is just a tweet here or a tweet there. It's something that the president has had impact on and therefore changed the public discourse in our country for the worst."
May condemned Trump's retweets on Wednesday.
"British people overwhelmingly reject the prejudice of the far right, which it is the antithesis of the values that this country represents: decency tolerance and respect," May said in a statement. "It is wrong for the president to have done this."
May was asked on Thursday whether the state visit should go forward, but essentially dodged the question. "An invitation for a state visit has been offered and has been accepted," May said. "We have yet to set a date."
Trump responded by attacking May in a tweet — one he had to send twice because he initially tagged the wrong Theresa May.
"@Theresa_May, don't focus on me, focus on the destructive radical Islamic terrorism that is taking place within the United Kingdom," Trump tweeted Wednesday night. "We are doing just fine!"
No date has been set for Trump to visit the U.K. — one of America's oldest and strongest allies, with which the U.S. has had a so-called "special relationship."
This is not the first time British politicians have demanded a Trump state visit be canceled. Trump was scheduled to visit the country earlier in 2017, but postponed his visit over the threat of massive protests.
At the time, Trump lashed out at Khan after the city experienced a terrorist attack at London Bridge and Borough Market.