With McCain supporting the bill, Senate Republicans' tax plan wins crucial support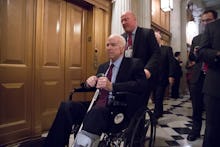 On Thursday morning, Republican Sen. John McCain of Arizona, one of the GOP holdouts on the party's efforts to repeal the Affordable Care Act, told press that he would support Republicans' plan to overhaul the federal tax system.
"After careful thought and consideration, I have decided to support the Senate tax reform bill," McCain said in a statement. Just one day earlier, he had told Capitol Hill reporters he was still undecided.
McCain's decision to support the bill may surprise some who speculated that the often moderate Republican senator from Arizona would buck from party over the same concerns that led him to vote against former President George W. Bush's tax plans in 2001 and 2003.
"I voted against the tax cuts because of the disproportionate amount that went to the wealthiest Americans," McCain explained on "Meet the Press" in 2004. "I would clearly support not extending those tax cuts in order to help address the deficit."
Though the GOP has marketed their plan to overhaul the federal tax system as a relief bill for America's working families, an analysis from the nonpartisan Congressional Budget Office says otherwise. On Sunday, the office released a report warning that the tax bill would take money away from lower-income families and give it to America's wealthiest.
The Arizona senator joins his fellow ACA GOP repeal holdout, Sen. Lisa Murkowski of Alaska, in affirming explicit support for the bill, giving Senate Republicans the momentum they need to whip other votes into place. The third holdout on the so-called "skinny repeal" of the ACA, Sen. Susan Collins of Maine, told reporters she was feeling optimistic that the final version of the bill would address her concerns following a meeting with President Donald Trump.
With the three key Republican holdouts on the ACA either explicitly supporting or trending towards supporting the bill, Senate Democrats' hopes of stopping Republicans from passing the "Tax Cuts and Jobs Act" may be stilled.
Two Republican senators have explicitly stated that they do not currently support the bill: Sens. Ron Johnson of Wisconsin and Steve Daines of Montana, who think the bill doesn't go far enough in cutting taxes.
But there are signals that at least one may shift his vote: On Tuesday, citing an assurance from the president that his concerns would be addressed, Johnson cast the deciding vote in the Senate budget committee, though he has not yet committed to voting for the bill on the floor.
If their opposition holds, Democrats need just one more vote to thwart the bill. But with McCain, Murkowski and Collins all appearing to fall in line, it is increasingly unclear who that third defector could be.
The final vote on the Senate tax plan is expected to take place on Thursday evening or by early Friday.
November 30, 2017 11: a.m.: This story has been updated.