A fifth woman is accusing Sen. Al Franken of groping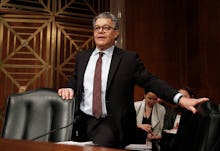 An Army veteran has come forward to accuse Sen. Al Franken (D-Minn.) of groping her during a photo op in 2003, when Franken was traveling through the Middle East on a USO Tour, CNN reported.
Stephanie Kemplin says Franken cupped her breast while the two posed for a photo while she was deployed in Kuwait. Kemplin is now the fifth woman to accuse Franken of groping, and the second to say it took place during a USO Tour.
"When he put his arm around me, he groped my right breast. He kept his hand all the way over on my breast," Kemplin told CNN. "I've never had a man put their arm around me and then cup my breast. So he was holding my breast on the side."
Kemplin provided CNN a photo of her and Franken together on the USO tour. Franken does not appear to be touching Kemplin's breast in the photo, though Kemplin's family and a former boyfriend corroborate her account.
Kemplin also said she was the victim of sexual assault by a fellow soldier that she shared a tent with in 2003, shortly before the USO photo op with Franken.
Kemplin reported her assault, but her alleged assaulter was found not guilty — though the military told Kemplin that his behavior was "totally inappropriate."
Franken spoke out about the previous allegations levied against him earlier this week, upon his return to Capitol Hill, telling reporters that he was both sorry and "embarrassed" for the accusations being brought against him. He also said he was unsure whether there would be more women accusing him of groping during photo ops.
"As Senator Franken made clear this week, he takes thousands of photos and has met tens of thousands of people and he has never intentionally engaged in this kind of conduct," a spokesperson for Franken told CNN. "He remains fully committed to cooperating with the ethics investigation."