Meet "Britain First," the far-right UK hate group Donald Trump retweeted Wednesday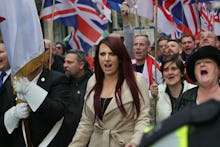 President Donald Trump retweeted three anti-Muslim videos Wednesday, which had been originally posted by Jayda Fransen — one of the heads of Britain First, a far-right hate group and fringe political party in the United Kingdom.
The videos seemed to depict Muslims engaging in acts of violence and vandalism. One falsely purported to show a "Muslim migrant" attacking a "Dutch boy on crutches," and the other two are unverified.
The retweets were sharply criticized by British officials, including Prime Minister Theresa May, who said in a statement that it was "wrong for the president to have done this."
But what exactly is Britain First — and what does it mean for Trump to have engaged with it online?
What is Britain First?
The organization bills itself as a "patriotic political party and street movement that opposes and fights the many injustices that are routinely inflicted on the British people" by what it describes as "left-wing-liberal policies and political correctness."
But Britain First is far more sinister than even the right-wing bluster of its mission statement would suggest.
The extremist group is virulently anti-Muslim and anti-multiculturalism, and it operates on the premise that Britain is losing its identity. It was described by a member of Parliament Thursday as being the British equivalent of the Ku Klux Klan.
"This is not a normal Donald Trump Twitter storm," MP Stephen Doughty said on CNN. "This is a far-right, fascist organization with a convicted criminal who is currently facing further charges in the U.K. for inciting religious hatred."
While its candidates for office have done poorly in elections since 2014, the group has achieved notoriety for its attempts to intimidate Muslims through so-called "Christian patrols," its use of social media to spread inflammatory anti-immigrant material and its stated belief that it is engaged in a "holy war" against Islam.
Jim Dowson, the group's founder, is a Christian fundamentalist who has figured prominently in the anti-abortion movement in Scotland and worked with the far-right British National Party until 2010 when he was accused of sexually assaulting a right-wing activist and former model.
The woman, Shelley Rose, said that Dowson ran his "clammy, sweaty hands" up her legs while she slept, kissed her without her consent and climbed on top of her when she told him to stop, according to the Daily Record.
He said the woman was a "daft wee lassie" who was acting as a pawn in a power struggle between party "hardliners" and those who "want to open the party to Asians and other groups."
He broke off and founded Britain First in 2011, taking several BNP officials, including current leader Paul Golding, with him, but left the organization in 2014 because the party had apparently proven itself too extreme — even for him.
"The group is being overrun with racists and extremists," Dowson told the Mirror, describing Golding's "mosque invasions" as "provocative and counterproductive."
"Most of the Muslims in this country are fine," Dowson said. "They are worried about extremists the same as us. So going into their mosques and stirring them up and provoking them is political madness and a bit rude."
Golding, though, said to the publication that Britain First was not racist and that the organization was "as far as right-wing organizations go, relatively scandal-free."
But Golding and Fransen each have multiple arrests to their name for their anti-Muslim activity. Golding was convicted in 2015 for harassing the sister-in-law of a man who was allegedly linked to a 2005 bombing in London that killed more than 50 people, in 2016 for violating a court-ordered mandate against him entering mosques or encouraging others to do so and in 2017 for assaulting a martial arts instructor.
Fransen, whom Trump retweeted, was convicted in 2016 of religiously aggravated harassment after verbally abusing a Muslim woman in a hijab.
She and Golding were each charged with religious harassment again in September 2017, and she was arrested earlier in November after delivering a speech in Belfast that authorities said contained "threatening, abusive or insulting" language.
Most notably, perhaps, the group came under scrutiny after Jo Cox — a pro-European Union MP — was murdered by a man who reportedly shouted "put Britain first" before shooting and stabbing her to death a week before the June 2016 Brexit vote.
The group denounced the assassination and claimed it was not involved in it, but MP Louise Haigh late last year called for Parliament to consider shutting the group down — a move that led to the Labour politician receiving online death threats.
What does it mean that Trump retweeted Fransen?
By retweeting the incendiary videos posted by one of the group's leaders, Trump has seemingly legitimized and normalized Britain First, according to the president's critics on both sides of the Atlantic.
"This is fundamentally indecent behavior," CNN's Jake Tapper said Wednesday. "We cannot excuse it and we cannot ignore and we cannot become numb to it."
Both Golding and Fransen appeared emboldened by Trump's tacit endorsement, tweeting out enthusiastic thank-yous to the divisive American president.
The group also claimed that the attention Trump brought them led to an immediate increase in supporters.
The retweets also resonated with bigots in America like former KKK leader David Duke, who tweeted Wednesday that "this is why WE LOVE TRUMP."
There are real consequences to the president's tweets.
According to James Clapper, the former U.S. director of national intelligence, Trump endorsing Britain First could "[incite or encourage] anti-Muslim violence." It could also cause "our friends and allies to wonder about the judgment of the president of the United States," he told CNN.
Indeed, he has been broadly condemned by officials in Britain, one of America's oldest and strongest allies, for the tweets — including by London Mayor Sadiq Khan, who called on May to cancel a state visit by Trump, saying the president "would not be welcomed" in the U.K.
Trump was also slammed by Brendan Cox, husband of the murdered MP.
"Trump has legitimized the far right in his own country; now he's trying to do it in ours," Cox tweeted. "Spreading hatred has consequences and the president should be ashamed of himself."
Trump, though, apparently was not "ashamed of himself."
Press secretary Sarah Huckabee Sanders defended Trump Wednesday, telling reporters that it doesn't matter if the videos he shared were real or not because "the threat is real."
Trump, himself, shot back at May after she criticized him for his retweets, tweeting Wednesday that she should "focus on the destructive radical Islamic terrorism that is taking place within the United Kingdom" and not on him.
"We are doing just fine!" he wrote.