Some Airbnb customers have found hidden cameras in their rooms. Here's how to protect yourself.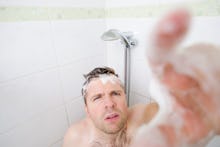 Airbnb allows users to book rooms in the homes of strangers all over the world. Most of the time, that works out great. But humans, regardless of the situation, occasionally find ways to do weird, gross, horrifying, illegal stuff. Airbnb hosts, unfortunately, are no exception.
For example, over the years, several Airbnb guests have reported finding hidden cameras installed by their hosts without their knowledge.
Perhaps the most recent case was documented in a tweet posted by a man named Jason Scott, in which you can see pictures of an internet-connected surveillance camera hidden within a device meant to look like a motion detector.
"In 'Oh, that's a thing now' news, a colleague of mine thought it [was] odd that there was a single 'motion detector' in his Airbnb in the bedroom," Scott wrote on Twitter. "And voila, it's an IP camera connected to the web."
Since Airbnb forbids hosts from placing surveillance cameras in a rental's bedrooms, bathrooms or private areas, Airbnb said the host in question was "permanently banned" from using its service and that it gave the guests a full refund, according to Select All. (Hosts are allowed to have cameras in and outside their homes, but they must disclose that information in the listing.)
But this isn't the first — and it certainly won't be the last — incident like this.
Of course, this isn't an issue isolated to Airbnb — there have been similar incidents in regular hotel rooms — but since Airbnb is becoming an increasingly common service to use in lieu of traditional hotels, it's still worth going over some best practices so you don't end up a victim. According to Roman Khaykin, founder of a private investigation agency InfoTactic Group, there are several things Airbnb guests can look out for if they're worried about being watched.
Guests should check for hidden lenses embedded within otherwise innocuous objects, like the fake motion detector above — but cameras can hide within other objects, too.
"The technology is pretty good, so the hidden camera can [also] be within your DVD player or cable modem and you won't spot it just by looking at the device," Khaykin said in a phone interview Wednesday. "It can hide behind the dark glass."
For example, the site SpyTec sells a number of these hidden cameras, like a digital clock that also has a camera hidden behind the display, which it markets as a device that can catch thieves in a home or office. Simple online searches for other types of hidden camera devices yield countless results.
Khaykin also said that some of these devices store the video footage within the object itself. Therefore, if an otherwise regular object has an inexplicable slot for an SD card, like the ones you'd find on a camera, that's a major red flag.
In a statement emailed to Mic, Airbnb spokesperson Jeff Henry emphasized these incidents are rare, but there are plenty of steps a guest can take before a booking is made to help lower the risk of falling prey to something similar.
"In addition to detailed profiles and secure messaging, you always have our global community to rely on," Henry said. "If you're curious what a previous guest's experience has been with a potential host, all you need to do is check that host's reviews ahead of time."
Unfortunately, the onus falls onto you, the guest, to make sure a host is complying with these rules. Stay vigilant, folks.