Brooklyn BreYanna Stevenson, transgender woman, found dead in Oklahoma City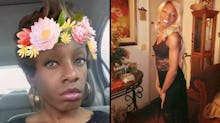 Thirty-one-year-old Brooklyn BreYanna Stevenson was found dead in an Oklahoma City motel room on Monday morning in what Oklahoma City police are investigating as a homicide, local outlet KFOR reported on Tuesday. Stevenson is at least the 24th transgender person killed in the U.S. so far this year, although advocates say the real number of deaths is likely far higher.
MSgt. Gary Knight of the Oklahoma City Police Department told KFOR on Monday that police were called to investigate a disturbance at a motel early Monday morning. The manager gave officers access to the room, Knight said, where they discovered Stevenson's body. The department would not offer specifics about Stevenson's cause of death, but Knight told the outlet that the trauma to her body was "consistent with homicide."
In a phone call on Thursday, Knight said that, "sadly, there's no arrest yet in that case" and that the department was urging anyone with information about Stevenson's death to reach out.
In a statement to KFOR, Stevenson's family said they were "heartbroken" and remembered her as a "an amazing daughter, sister and friend with a giving and loving heart." The continued: "We pray that those who committed this heinous crime will be identified and Brooklyn will receive justice."
A GoFundMe account set up by a woman identifying herself as Stevenson's mother had raised more than $3,700 towards its $5,000 goal by Thursday morning.
The description on the page read, "I can tell from the outpouring of love that I have been receiving via Facebook, instant messenger, phone calls and texts that Brooklyn was loved by many and will truly be missed by all of you. Many of you have asked if there is anything you can do to help, so we are setting up this account so that you may be able to assist us in funding Brooklyn's homegoing. Any amount that you can give will help, as we were not prepared in any way to have to be doing this at this time."
Local trans rights advocate Paula Sophia Schonauer told KFOR that she had gotten to know Stevenson "a little bit," adding "I knew how hard she was trying and how much she was working to establish her identity and to establish a place in the world for herself."