White House has a plan to oust and replace Rex Tillerson, per report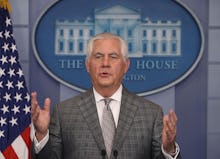 The White House is looking to switch up President Donald Trump's cabinet yet again, and is concocting a plan to oust Secretary of State Rex Tillerson, the New York Times reported Thursday.
According to the report, Trump has "soured" on Tillerson, and wants to replace him with current CIA Director Mike Pompeo. Trump would then nominate Sen. Tom Cotton (R-Ark.) to replace Pompeo.
It's unclear when, or if, this will happen. Trump hasn't given final approval for the proposed game of musical chairs, according to the New York Times' report.
However if this did occur, Tillerson would join the ranks of the many Trump staffers who have either jumped ship or been fired in the early days of Trump's presidency.
He also wouldn't be the first cabinet secretary to not last the year.
Health and Human Services Secretary Tom Price resigned in scandal back in September.
Similarly, John Kelly was moved from his position as secretary of Homeland Security to become Trump's chief of staff, after now-former Chief of Staff Reince Priebus was fired over the summer.
And Trump had to replace now-former FBI Director James Comey after firing him — a move that sparked special counsel Robert Mueller's investigation.
If the plan falls into place the way the New York Times reported, Senate Republicans would have yet another special election to contend with to replace Cotton.
Cotton represents Arkansas, now a strong Republican state that Trump carried with 60% of the vote.
However a Democrat held the seat before Cotton was elected. And if Republicans nominate a problematic candidate such as Roy Moore in Alabama — who is facing an unusually close election thanks to allegations of child molestation — the special election could be a drain on Republican resources.