Matt Lauer says he is "truly sorry" after sexual misconduct claims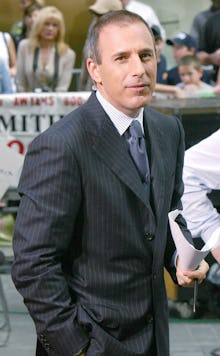 Longtime Today show host Matt Lauer, one of NBC News' most recognizable television journalists, apologized Thursday after allegations of sexual misconduct led to the abrupt announcement of his termination from the network on Wednesday.
"There are no words to express my sorrow and regret for the pain I have caused others by words and actions," Lauer said in a statement Thursday morning. "To the people I have hurt, I am truly sorry. As I am writing this I realize the depth of the damage and disappointment I have left behind at home and at NBC."
"Some of what is being said about me is untrue or mischaracterized, but there is enough truth in these stories to make me feel embarrassed and ashamed," the statement continued. "I regret that my shame is now shared by the people I cherish dearly. Repairing the damage will take a lot of time and soul searching and I'm committed to that effort."
Lauer, who had been with Today since 1997 and had hosted various NBC News programs over the years, was fired by the broadcaster this week after NBC News said it heard from a staff member alleging sexual misconduct.
"On Monday night, we received a detailed complaint from a colleague about inappropriate sexual behavior in the workplace by Matt Lauer," NBC News chairman Andrew Lack wrote in a memo to NBC News staff Wednesday. "It represented, after serious review, a clear violation of our company's standards. As a result, we've decided to terminate his employment."
Lack said in the memo that the incident was the only one that had been brought to the network's attention regarding Lauer, but that the company had reason to believe that "this may not have been an isolated incident."
Hours after Lauer's firing on Wednesday, Variety published a story detailing Lauer's alleged misconduct while at NBC News. That story, which the magazine said was the result of a two-month investigation, included claims that Lauer exposed himself to a female employee, sent a colleague a sex toy with an explicit note and regularly pursued women who worked at the broadcaster while on assignment.
The Variety report raised questions about how much NBC News executives knew of Lauer's conduct over the years. NBC News said in a statement to CNN Wednesday that "current NBC News management was never made aware of any complaints about Matt Lauer's conduct" prior to Monday.
Later on Wednesday, The New York Times ran its own story about Lauer's conduct, based on reports from women who came forward to NBC News following Lauer's termination. In that story, one woman alleged that Lauer sexually assaulted her in his office in 2001.
NBC News had heard from two additional women alleging misconduct by Lauer following his termination Wednesday, according to The New York Times.
"It's a difficult morning here again," said Hoda Kotb, who formerly cohosted the NBC News morning program alongside Lauer.
A spokesperson for NBC News has not responded to multiple emailed requests for comment about the matter.