Russell Simmons to step down from companies after allegation of sexual assault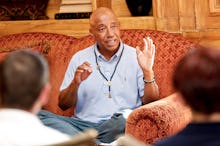 Def Jam co-founder Russell Simmons announced plans to step down from his various companies on Thursday morning, just hours after writer Jenny Lumet publicly accused him of forcing her to have sex nearly three decades ago.
In a guest column published by the Hollywood Reporter, Lumet details the first four years of their relationship, during which they ran in similar social circles and Simmons pursued her in what she describes a "light, fun, and flattering" manner. But that all changed one night in 1991, according to Lumet, when Simmons offered her a ride home from a restaurant in his private car:
I got into the car with you. The driver began to drive.  I assumed you knew where I lived, because you had sent me 250 balloons, but I gave the driver my address on 19th Street and 2nd Avenue.  
You said to the driver: "No."
I didn't understand, so I said: "Russell?"  
I said, again, to the driver: "19th Street."
Again you said to the driver:  "No. "
After arriving at Simmons' building, Lumet says she was quickly maneuvered into an elevator and up to his apartment, where he proceeded to have sex with her.
"I desperately wanted to keep the situation from escalating," she wrote. "I wanted you to feel that I was not going to be difficult. I wanted to stay as contained as I could."
In a statement responding to the allegations, Simmons said that he recalled the encounter differently, but acknowledged that Lumet's "feelings of fear and intimidation are real."
"While I have never been violent, I have been thoughtless and insensitive in some of my relationships over many decades and I sincerely and humbly apologize," he said, according to Variety.
This isn't the first time Simmons has been publicly accused of sexual assault; earlier this month, model Keri Claussen Khalighi said that the Phat Farm entrepreneur once teamed up with serially accused harasser Brett Ratner to coerce her into sex at his apartment when she was just 17. Another woman, Tanya Reid, also accused Simmons of pressuring her to perform oral sex on Ratner.
In his note announcing his decision to step down from his companies, Simmons acknowledged the cultural moment that has ensued in the wake of a litany of accusations against disgraced Hollywood producer Harvey Weinstein, saying that the industry now finds itself in a "time of great transition."
"The companies will now be run by a new and diverse generation of extraordinary executives who are moving the culture and consciousness forward," he said. "As for me, I will step aside and commit myself to continuing my personal growth, spiritual learning and, above all, to listening."