Trump fires Rex Tillerson, replaces him with CIA Director Mike Pompeo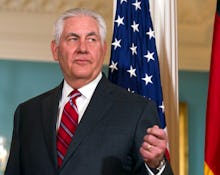 President Donald Trump has fired Secretary of State Rex Tillerson, he announced on Tuesday morning, and plans to replace him with CIA Director Mike Pompeo, marking the latest shakeup in the chaotic White House.
"Mike Pompeo, Director of the CIA, will become our new Secretary of State. He will do a fantastic job!" Trump tweeted. "Thank you to Rex Tillerson for his service! Gina Haspel will become the new Director of the CIA, and the first woman so chosen. Congratulations to all!"
Trump asked Tillerson to leave on Friday, leading Tillerson to end his trip to Africa early, according to the Washington Post, which first reported the shakeup.
However the State Department said in a statement that Tillerson "had every intention of staying" and that Tillerson "did not speak to the President and is unaware of the reason" for his dismissal, according to ABC News.
Tillerson's ouster comes after he broke with the White House to criticize Russia for poisoning an ex-Russia spy, the optics of which are sure to raise eyebrows.
Tillerson is the 17th top-level White House aide to leave the White House since Trump took office, and the fourth in 2018 alone. His exit follows head of the National Economic Council Gary Cohn, White House communications director Hope Hicks, White House deputy communications director Josh Raffel and White House staff secretary Rob Porter.
Tillerson's ouster was a long time coming.
In November, multiple news outlets reported that the White House had a plan to fire Tillerson and shuffle other members of Trump's Cabinet to replace him. The New York Times reported at the time that the intention was to replace the beleaguered official with Pompeo.
Tillerson, a former oil executive, had a turbulent brief tenure in politics, as he quickly came under fire by staff for his deep cuts to the department. He also caused some drama in October after a news report that he was thinking of resigning and had called Trump a "moron."
Tillerson held a news conference in early October to deny that he was considering resigning, but didn't end up flat-out denying that he had called the president any names.
Tillerson is now the second cabinet secretary to leave the administration a little more than a year into Trump's presidency.
Tom Price resigned his role as secretary of health and human services after a private jet scandal. John Kelly also vacated his role as secretary of homeland security in order to become Trump's chief of staff.
Trump announced he's nominating Gina Hapsel, the current deputy director of the CIA, to replace Pompeo. If confirmed, Hapsel would be the first woman to run the CIA, according to the Washington Post.