Top House Democrat: "I'm not interested in bills" that do not protect DACA recipients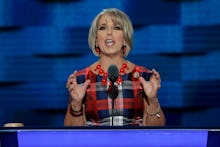 Rep. Michelle Lujan Grisham (D-N.M.) told reporters Thursday morning she's "really not interested in any other bills" besides legislation that will protect immigrants who were brought to the U.S. as children.
Those immigrants, widely known as DACA recipients, have become a sticking point in negotiations to keep the federal government open past next week. Congress must pass a government spending bill by the end of next week, and 25 Democractic House members and senators including Sen. Dick Durbin (D-Ill.), the second-ranking Senate Democrat — have said they will only support a spending bill that protects these immigrants.
The leader of the Congressional Hispanic Caucus, Lujan Grisham had not gone as far as some of her colleagues — such as Reps. Luis Gutiérrez (D-Ill.) and Raul Grijalva (D-Ariz.), the chair of the progressive caucus — who told Mic they would only vote to keep the government open if Deferred Action for Childhood Arrivals, or DACA, recipients were protected from deportation.
President Donald Trump announced in September he will terminate the DACA program in March, throwing 800,000 immigrants who have legally lived and worked in the U.S. since former president Barack Obama created the program in 2012 into limbo.
"I am only considering how exciting it's going to be for me to vote on a DACA fix," Lujan Grisham said during a press conference in Washington, D.C. "Without that opportunity, I'm really not interested in any other bills right now."
The New Mexico congresswoman did not explicitly say she would vote against keeping the government open. But she did say that a majority of House Democrats believe DACA recipients must be protected by Congress before the end of the year — a position already expressed by Democratic leaders in the House and Senate.
Key Republicans have also begun to join the Democratic push to not keep the government open without protecting DACA recipients.
According to Lujan Grisham, Rep. Scott Taylor (R-Va.) is beginning to circulate a letter among House Republicans to push leaders to include a DACA fix in any year-end spending agreement. She said as many as 50 Republicans could sign the letter.
"It is a serious effort by many members in the Republican conference to say [to Republican leaders] ... 'We expect a much clearer effort [to protect DACA recipients,]'" the congresswoman said.
A spokesman for Taylor could not immediately be reached for comment to confirm Lujan Grisham's account.
Thirteen House Republicans said earlier this month that DACA recipients need to be protected before Congress recesses this year. Earlier this week, two Miami Republican representatives — Carlos Curbelo and Ileana Ros-Lehtinen — said they would join Democrats in not supporting a year-end spending deal that did not include DACA protections.