Meet Courtney Smith, a 26-year-old advocate fighting to end youth homelessness in Detroit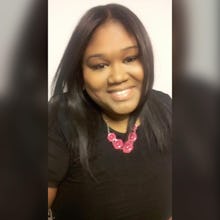 When Courtney Smith was 16, she was forced out of her adopted parents' home in Detroit and moved into a city youth shelter. This was the beginning of her multiple bouts with housing insecurity. Her last experience was at 24.
Smith was homeless again after graduating from high school and moving to Raleigh, North Carolina, to attend St. Augustine University in 2009. During the winter break, the school closed its dorms, displacing Smith again. In the meantime, she returned to Detroit and stayed at a shelter. After completing her freshman year at St. Augustine, Smith transferred to Eastern Michigan University in Ypsilanti, Michigan. During this school year, she was placed in an apartment through a local shelter program.
But the 26-year-old experienced housing insecurity again between 2012 and 2013. While working as a live-in nanny, the family's house flooded, and Smith began living with them in a hotel. A counselor at Eastern Michigan University recognized Smith's instability. From there, the college helped her with an apartment while she completed her studies. It wasn't until her senior year at Eastern Michigan, that Smith was able to access the help she needed from the school.
"A lot of times when you're neglected — when you're young or you experience some trauma — it's not easy to reach out for help," Smith said in a phone interview with Mic.
Today, Smith is using her experience during her teens and early twenties to work on solutions to youth and young adult homelessness both in Detroit and across the country. She serves on the board of directors for SchoolHouse Connection, a national organization promoting success for homeless children. She is also a youth adviser for the National Network for Youth, in which she works with other millennials to identify best practices to serve youth experiencing housing insecurity.
Smith's most personal work culminated in January, when she opened the Detroit Phoenix Center, a part-time drop-in facility for youth who need access to resources such as a hot shower and food as well as help obtaining stable housing.
"In the long-term, I would love to put myself out of a job and end youth homelessness in the city of Detroit," Smith said. "Because it's such a great need in the community that doesn't look like it's going to happen anytime soon."
As the country recognizes National Youth Homelessness Awareness Month in November, the statistics are a reminder that American youth are in alarming need of the kind of support Smith and other advocates are fighting for throughout the year. One out of 10 young adults, 18 to 25, experience homelessness within a year, a 2017 study by the University of Chicago's Chapin Hill reported. And one out of 30 teens ages 13 to 17 experience homelessness in a year. Those most at risk for homelessness are LGBTQ-youth, black and Latino youth, young parents and those who do not have a high school diploma.
Smith began her work as an advocate while she was still one of the millions of young people who are housing insecure in America. During her junior year of college, she started writing her thesis on the living experiences of students who were facing homelessness.
"I reached out to the National Association for the Education of Homeless Children for research and they actually ended up bringing me on as a consultant," Smith said. Smith joined the organization as a task force coordinator for an initiative against homelessness. She was involved in creating testimonials for legislation and helped call for the senator of Michigan to improve access to resources for homeless and foster care students.
"It was a very great opportunity for me to learn advocacy on a national scale," Smith said. "It took me on a journey to knowing the scope of the issue beyond my own experiences."
Locally, Smith wanted to do more direct outreach to help homeless youth in the city of Detroit. Her relationship with her youngest brother Blair, who was also facing housing insecurity, helped shaped her earliest idea to launch a youth drop-in center.
"His situation was very different than mine," Smith said. "He wasn't as agreeable as I was. He was more of a free spirit. He didn't like rules. He was experiencing a lot of challenges. He would come to my house just to take a shower. He would drop in and drop out. And I was saying to myself, where do people like my brother go? How do they receive services?"
During the one-week journey, Smith conducted focus groups with youth in each city stop to collect more insight on the experiences and find ways she could create a low-barrier approach to social services for homeless youth. She also interviewed executives at organizations serving the homeless population to gain knowledge of best practices.
"All of the young people had different stories," said Smith. "They all felt their voices weren't heard. They felt they weren't treated as human beings."
"One lady that I met in Milwaukee, she was living on the street and she was saying the drop-in center was so impactful for her because of the housing market and all the challenges she was experiencing. And she said I didn't need sometimes a place to go, but just to take a shower."
Upon returning to Detroit, Smith convened a group of youth to form a youth advisory council for the Detroit Phoenix Center. They helped brainstorm effective programming and lent their voices to the city of Detroit for a citywide initiative to help homeless youth. They also volunteered to help with painting and cleaning the space before it opened at Bethel Community Transformation Center in central Detroit. Smith said the center occupies a wing in the church building.
Smith initially pitched her drop-in center to five spaces. They all said no, but she found success when she presented the idea to her church's pastor. "The pastor of the church is really committed to social justice. When I pitched the idea to them the thing that the pastor said was that he had so many kids living in his house. That the church was trying to strategize a way to meet the need of the community and when I came along with my project [Pastor Aramis Hinds] said it was an answered prayer for the community."
On the first day of the center's opening, Smith faced heartbreaking news, her brother Blair had died at the age of 19. "For the first couple of months, my brother's death had such a great impact on me that I had to frame it in a way, that okay, this has to be the purpose," she said. She remembers him by naming a room in the center after him. "I couldn't allow myself to say because he passed the work that I was doing wasn't effective."
After opening, Smith encountered more obstacles, as she realized the center could not handle the amount of requests for help it was receiving because of limited resources. After six months of being open, the Detroit Phoenix Center stopped providing drop-in services to the public to figure out strategic ways to serve youth at a great capacity. "We are not getting the money we need to provide the services in such a large scope."
Until the center is able to expand efforts, Smith and her team of volunteers and directors are focusing on providing resources to a group of 20 youths a week. The center provides them with transportation assistance and housing, and it helps connect them with educational options to meet their goals. It also does outreach events — such as feeding groups of teens and young adults — to help youth outside of the group. Smith said the center is currently seeking to fulfill its current wish list, especially for coats, now that winter is approaching.
"In the summer, youth are often invisible," Smith said. "But in the winter, the youth become very very visible. This week alone, our phone has been ringing off. In Michigan, it's cold. There was a young man that we connected to that was sleeping in a tent with his brother outside."
In Detroit, 21% of the homeless population is under the age of 18, according to the Homeless Action Network of Detroit's 2016 state of homelessness report. Further stats show that 11% are ages 18 to 24 and 48% are ages 25 to 54. Black people make up 91% of the overall homeless population in the city compared to white people who make up 8%.
Smith says there are many ways for people to help. This includes raising awareness to emphasize the voices of youth who have lived experience with housing insecurity; donating to local organizations — the need is far greater than the resources; supporting local efforts beyond the holidays and writing to legislators and tell them about the crisis.
Smith's goal is to be able to have a bigger and better drop-in center and to add other services like a transitional living program, where youth have access to overnight housing options. She also wants to be able to employ youths through a social entrepreneurship model.
"Opportunity breaks the cycle of poverty," Smith said.
For more information on how to help the Detroit Phoenix Center, please visit here.