Bette Midler posts 1991 interview accusing Geraldo Rivera of groping her: "He has yet to apologize"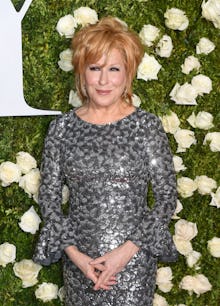 Bette Midler has taken exception to Fox News host Geraldo Rivera's public support of Matt Lauer.
Shortly after NBC announced on Wednesday that it had fired Lauer for "inappropriate sexual behavior in the workplace," Rivera tweeted that Lauer is a "great guy," and argued that news is simply a "flirty business." In the face of immense backlash, Rivera has since apologized, but Midler wasn't satisfied.
In a tweet of her own, Midler posted a clip from a 1991 interview with Barbara Walters, in which the actress and singer accused Rivera and one of his producers of drugging her with "poppers" — a slang term for a type of recreational drug called alkyl nitrites — and groping her in a bathroom.
"I feel like this video was a gift from the universe to me," Midler tweeted. "Geraldo may have apologized for his tweets supporting Matt Lauer, but he has yet to apologize for this."
"It was very unpleasant," Midler said in the video. "Geraldo and his producer came to do an interview with me — in the '70s, the early '70s. And this was when he was very, sort of 'hot.' And he and his producer left the crew in the other room, they pushed me into my bathroom, they broke two poppers and pushed them under my nose and proceeded to grope me. ... I did not offer myself up on the altar of Geraldo Rivera."
Mic has reached out to Fox News and a representative for Midler for comment and will update with any response.