We need to talk about the gross sexualization of Millie Bobby Brown and the 'Stranger Things' kids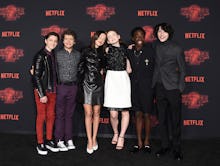 Surrounding the release of the second season of Netflix's Stranger Things in October, the show's young stars were everywhere. On magazine covers, red carpets, award shows and late-night talk shows, Millie Bobby Brown, Gaten Matarazzo, Finn Wolfhard, Caleb McLaughlin, Noah Schnapp and newbie Sadie Sink have been practically inescapable.
People are fascinated by them firstly because of their talent. These are actors who first starred in Stranger Things when they were barely teenagers, and yet are turning out masterful performances of characters that could easily be seen as silly (it's kids trying to take down monsters, after all). As a result of this perceived maturity though, there are fans who see these stars not as child stars, but as adults. And they're not adults.
What this has led to is the media and the fashion industry sexualizing them as if they were adults (when, again, they're not).
Earlier this year, for example, W magazine ran a cover with Charlize Theron with the headline "Why TV is sexier than ever," followed by a list of stars including Nicole Kidman, James Franco, Riz Ahmed and yes, Millie Bobby Brown, who is 13 years old.
It caused lots of outcry from fans, who understandably were upset by the idea of Brown being called "sexy."
Then in October, Stranger Things star Finn Wolfhard got embroiled in his own weird sexualization when 27-year-old model Ali Michael captioned an Instagram post of Wolfhard: "Not to be weird but hit me up in four years," and then tagged him.
Again, people were outraged.
Michael ended up apologizing, writing to Teen Vogue: "It was never my intention (nor has it ever been) to sexualize a minor in any way shape or form. To those I offended or misled, I apologize for a post made in haste and lacking in sensitivity, particularly considering the landscape of the present culture."
Meanwhile, Wolfhard had to comment on the situation too, telling TMZ: "That was gross," which yeah, it was.
Now fast forward a few days, and Brown again was at the center of an adult highlighting her for looking older than she is. Mike Sington, a retired senior NBCUniversal executive, tweeted a picture of Millie Bobby Brown at a Stranger Things premiere with the caption: "Millie Bobby Brown just grew up in front of our eyes. (She's 13!)"
To that, actress and author Mara Wilson, wrote about why, exactly, this was so messed up.
As a former child star herself (Wilson's most widely known for her leader role in Matilda), she knows that comments like that from grown men can be dangerous.
"It does not feel good to have strange men comment on your body when you are 13," Wilson wrote. "Whether in a 'positive' or 'negative' way."
"You are repeatedly told that you dress too old, or you dress too young," Wilson wrote.
"It's not just the Hollywood insiders that take advantage," Wilson wrote. "It's the media narrative as well."
In the case of these Stranger Things kids, that's exactly right. It is the media that has posed these children — and particularly Brown — as being objects of desire. It is never, and will never be, the fault of these stars for looking older to some people. It's on the media, and the people who are pushing these narratives that these teens are alluring.
It's far from the first time the media has done this to stars younger than 18 too. Never forget that Vanity Fair had Miley Cyrus, then 15, pose in just a white bed sheet and lipstick. Rolling Stone posed Britney Spears, then 17, on satin sheets in a bra and short-shorts.
Though Cyrus and Spears could have been comfortable with these ideas, the media is still at fault for pushing this sly narrative that we should even consider these celebrities who are younger than 18 as sexy or sex symbols.
Ultimately, Sington ended up apologizing for the tweet, releasing a statement reading: "'Grew up in front of our eyes' was meant as an expression only, not to be taken literally, on what appears to be a more 'grown up' look I assume... I can see how some could interpret commenting on the grown up look of a child as a contributing to the objectification or even sexualization of a minor."
But still, Wilson's points remain valid.
The Stranger Things kids are immensely talented actors who are not adults. Let them live free from your perversions.