This unlikely supergrain comes from beer brewing and is often thrown away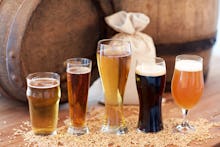 It all started with an underage teen who wanted a beer.
Then 19, Dan Kurzrock was brewing beer in his frat house at the University of California, Los Angeles, the way all homebrewers do: by soaking barley in hot water, removing the grain and adding hops, yeast and — once in a while — flavoring agents like coffee. But he didn't know what to do with the wet grain, which resembled hot oatmeal, a byproduct of the brewing process.
"None of the homebrewing books tell you what to do with it," Kurzrock, now 28, said in a phone interview, explaining how each keg-sized batch of beer he made with his friend Jordan Schwartz left around 30 pounds of grain behind. Many commercial breweries often compost it, donate or sell the "spent" grain to farmers who feed it to animals, but the two undergrads decided to go in a different direction.
The mush of hot grains smelled and tasted great, so the pair began baking the ingredient into bread and selling the loaves in hopes of subsidizing their brewing.
Realizing every homebrewer and craft brewery was also generating hundreds of pounds of "spent" grain that wasn't being used, Kurzrock and Schwartz — while they were still in college — launched ReGrained, a San Francisco-based company dedicated to upcycling the spent grain from six local craft breweries. ReGrained, which has a six-person team, mills brewers' spent grain into flour and uses it to create snack food bars that are sold online and in 100 stores in northern California.
There are two flavors: honey cinnamon IPA and chocolate coffee stout, and they cost roughly $25 for a 12-pack.
Others are taking a different approach to transforming the leftover grains. Rise, a New York City-based company, uses it to produce flour it sells online and to local bakeries and restaurants. The five-person company hopes to upcycle other organic byproducts — like soy left behind from soy milk production, or grapes leftover from wine — in the future, Lev Tatz, Rise's production manager, said in a phone interview. The Rise website notes that 42 million tons of brewers' spent grain is sent to landfills every year.
"We thought that building a marketplace for industrial byproducts could allow us to create connections between various businesses," Tatz said, noting that cities in Denmark have done this and achieved "industrial symbiosis."
Rise's flour "retains some of the aromas and notes of the beer," Tatz said. "You can enhance many recipes with the flavor and the texture," he added, explaining that each batch of Rise flour is a little different depending on the brewery from which the grain comes. Online, Rise sells a "super barley" flour and a "dark" flour, the former made from IPAs and the latter from porters and stouts. (Meanwhile, ReGrained has one signature flour blend it makes from spent grain.)
Joel Gamoran, national chef for Sur La Table and host of Scraps, a television series about repurposing food waste, has used the Rise flour around 10 times, he said in an email.
"This is its own beast," Gamoran said, noting he's made a "badass biscotti" with the flour and used it in other dense baked goods. "This is not a replacement for whole wheat, in my opinion. It tastes like beer, you smell hops ... chocolatey, deep, rich notes. I am in love with it!"
Is spent grain actually healthier?
Both Tatz and Kurzrock extolled the nutritional virtues of brewers' spent grain, explaining the brewing process makes the grain healthier because it strips it of sugar that's later fermented in beer, meaning spent grain has less sugar and carbs but the same nutritious prebiotic fiber and protein. A recent article in the Journal of Food Science noted spent grain is also a rich source of phenolic compounds, which are anti-inflammatory and may help prevent the development of cancer. Other plants with phenolic compounds include raspberries and blackberries.
"[Spent grain] blows other grains away [nutritionally]," Kurzrock said. "We're trying to elevate it to the supergrain hero status that we think it deserves."
Upcycling the grain is an uphill battle, though. "There's not a market for this ingredient yet," Kurzrock said, adding that even the name "spent grain" makes it seem like a waste product when it's not. Butchers have long turned leftover scraps into dog food, and in the same vein, some companies are creating dog treats from spent grain.
The process of milling spent grain into human-grade flour isn't cheap. Rise's light flour and dark flour retails online for $30 for 2 pounds — much pricier than conventional flour. (King Arthur's 5-pound bag of all-purpose flour, meanwhile, costs just under $5.)
It's expensive and difficult to transform the nutrient-rich stuff into flour. The spent grain is wet when it comes from a brewery, and "within hours, it's a food safety issue," Kurzrock said. ReGrained is working with the Department of Agriculture's Agricultural Research Service to streamline the hourslong process it takes to dry the wet grain and mill it into flour.
"They see what we're doing as a really important upgrade to the food system," Kurzrock said.