Trump's tweets on the Kate Steinle verdict show a lack of understanding of the justice system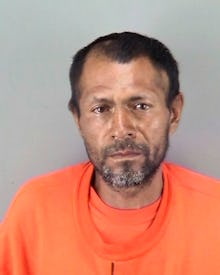 President Donald Trump went on a Twitter tear Friday morning in the wake of the Kate Steinle verdict — the woman who was killed in 2015 by an undocumented immigrant in San Francisco.
Steinle's killer, undocumented Mexican immigrant Jose Ines Garcia Zarate, was found not guilty on Thursday of murder and manslaughter charges, but was found guilty of possessing a firearm as a felon, according to CNN.
Prosecutors argued that Zarate — who had been deported multiple times before the murder — purposefully shot Steinle while playing his own "secret version of Russian roulette." However Zarate's defense attorneys argued that the shooting was an accident.
Trump — who used the case to bolster his anti-immigration policies throughout the 2016 campaign, including his case for building a wall on the U.S.-Mexico border — called the verdict "disgraceful" and blamed it on Democrats being weak on crime.
"The jury was not told the killer of Kate was a 7 time felon," Trump tweeted. "The Schumer/Pelosi Democrats are so weak on Crime that they will pay a big price in the 2018 and 2020 Elections."
Trump also questioned why Zarate's immigration history wasn't used in the case.
"The Kate Steinle killer came back and back over the weakly protected Obama border, always committing crimes and being violent, and yet this info was not used in court," Trump tweeted. "His exoneration is a complete travesty of justice. BUILD THE WALL!"
However, both California and federal law say a defendant's prior criminal history cannot be used to "prove a person's character."
The fact that Zarate was an undocumented immigrant was not included in the murder trial because it wasn't germane to the trial.
Trump has used the Steinle case in his crusade against so-called "sanctuary cities" — or U.S. cities that limit their local law enforcement officers from enforcing federal immigration law.
San Francisco, where Steinle was murdered, is a sanctuary city. Zarate had been released from the San Francisco County Jail prior to Steinle's murder because the charges that he was being held for were dropped — despite the fact that federal immigration officials had asked for the county jail to continue to hold him, so he could be deported again.
Attorney General Jeff Sessions, also an opponent of sanctuary cities, expressed his displeasure with the verdict as well, and pushed for the need to crack down on sanctuary cities.
"I urge the leaders of the nation's communities to reflect on the outcome of this case and consider carefully the harm they are doing to their citizens by refusing to cooperate with federal law enforcement officers," Sessions said in a statement after the verdict.