"I would love to fight": Jimmy Kimmel accepts Roy Moore's challenge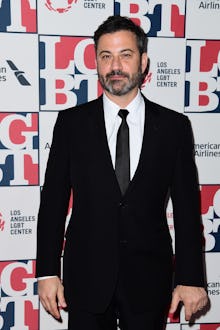 Count Alabama Senate candidate Roy Moore among the list of Republicans comedian Jimmy Kimmel is now in a spat with — and the feud has escalated to threats of a bout.
Kimmel had sent a staffer from his show to attend a Moore rally in Alabama, and in a segment on Kimmel's show, the staffer made fun Moore supporters — who are still voting for the Republican despite multiple child molestation allegations.
Moore responded to Kimmel's stunt on Thursday.
"@jimmykimmel If you want to mock our Christian values, come down here to Alabama and do it man to man. #ALSen," Moore tweeted.
And on his show on Thursday, Kimmel accepted.
"I accept by the way. I accept that invitation," Kimmel said. "There is no one I would love to fight more than you. I will put my Christian values aside just for you and for that fight."
Moore has been accused by multiple women of either molesting or trying to date them when they were teenagers. He is flatly denying the allegations.
Initially, the accusations looked like they could sink Moore's chances in the upcoming Dec. 12 special election. However Moore's polling numbers have since rebounded, according to the RealClearPolitics average, with him leading his Democratic challenger Doug Jones.